In this guide, you will find out how to reconcile Pin Payments transactions in your Xero Checking account in just a few clicks using the Payouts feature in Synder.
Overview:
How to sync your Pin Payments Payouts to Xero
Synder automatically synchronizes your individual sales transactions into a clearing account (Pin Payments Bank account) created by the app by default in a Chart of accounts in Xero. Once Pin Payments transfers money to your real Bank, Synder will automatically synchronize a Transfer (Payout) from your Pin Payments Bank account into your Checking account in Xero (balance of clearing account will go down and balance of checking will go up). So while reconciling you just need to click OK (Match) button in your bank feeds.
Follow the simple steps below to set up Pin Payments Xero integration payouts:
Go to Synder Settings and hit Configure in the box with the PinPayments integration.
Open the Payouts tab.
Turn the "Process Payouts" switcher on and select your Checking account from the dropdown.
Click Update.

Once the setting is enabled Payouts will be synchronized into your Xero for easy checking bank account reconciliation.
If the setting is Off, Synder will ignore payouts and you are to account for them manually.
Note: To reconcile your checking successfully both regular Pin Payments sales transactions, as well as Payouts, should be synced in Xero.
How to quickly reconcile Pin Payments transactions in your Xero Checking account
Open your Xero Checking account bank feeds and follow these steps:
Open your Xero Checking account and search for Pin Payments Transfers you want to reconcile
The Match tab is highlighted with green, which means Synder has created a transfer from "Pin Payments Bank Account" (clearing account) to your Checking and Xero pre-matched this transaction in the bank feed for your approval.
Click OK for all the Pin Payments deposits.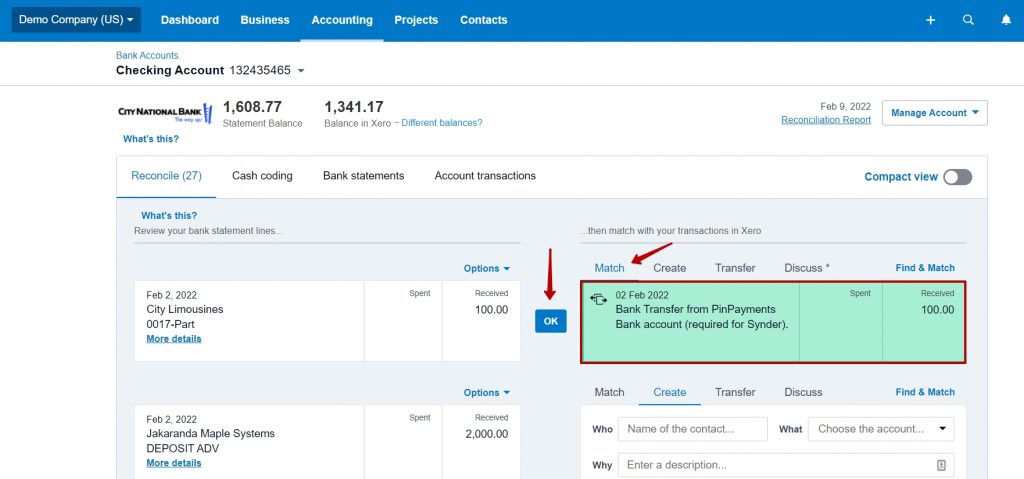 To sum up: all the sales transactions are stored in the Pin Payments Bank Account in your Chart of accounts. Only payouts are deposited to your Checking account. You do not have to create anything manually or use the Create tab to match your bank statement lines – Synder has already done this job for you if you have Payouts feature enabled.
Useful tips on reconciling Pin Payments transactions in Xero
If you synchronize all of the transactions (sales and payouts), your Pin Payments Bank Account balance in Xero should be equal to your actual Pin Payments balance. This is a good way to check if everything works properly.
If you want to reconcile Pin Payments bank account, please use the Pin Payments dashboard to find the ending balance for reconciliation.
Get in touch with the Synder team via online support chat, phone, or email with any questions you might have so far – we are always happy to help you!
Was this article helpful?