Bookkeeping is an essential part of running a business, but also not an aspect in which many business owners have expertise, which leads to lost time on cumbersome, error-prone manual processes. Synder is an accounting automation software that can remove these hassles by automatically performing redundant and time-consuming tasks, adding efficiencies – you have only one digital platform to orchestrate all your sales platforms (such as Shopify, Amazon, Stripe, PayPal, and many others), reflecting your online payments data with all necessary details (customers, items, taxes, shipping, discounts and so on) in your accounting.
Overview:
Important note 1: If your BigCommerce store accepts payments via one of the supported gateways (e.g. Stripe, check the list of available integrations here) you need to connect these payment platforms to Synder as well. In this case, you will get flawless and automated records of sales, fees, refunds, and payouts from those payment platforms with additional information provided by BigCommerce orders. At the same time, you will need to create Order and Order Refund additional settings to prevent duplicates.
Important note 2: If you connect only BigCommerce to Synder (and no other payment gateways integrated with your BigCommerce store), make sure additional Order and Order Refund settings are created.
Start the BigCommerce integration from scratch
1. Create a free trial account
If you're getting started with Synder you'll need to create a free Trial account and connect your accounting system first. Check out this guide if you would like to integrate BigCommerce with Synder accounting, QuickBooks Online or Xero and this article to connect your QuickBooks Desktop company.
2. Select the product(s) you are going to use:
Synder Sync;
Business Insights;
Or both of them for perfect control of your business.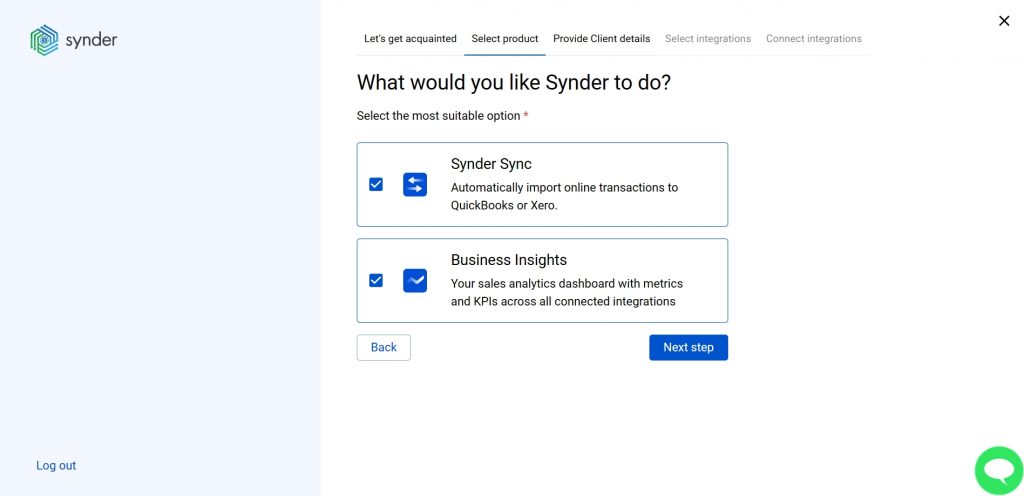 Synder Sync: choose this product to push all of your transaction data from all sales channels into QuickBooks Online, QuickBooks Desktop, Xero, or Synder Books – our native accounting solution.
Business Insights: this Synder product lets you see how your business is doing. It aggregates data across all of your connected sales channels and payment gateways and provides you with timely insights into your products' performance and your customer behaviors, as well as financial health indicators such as total sales, average order value, etc. The data is updated every hour!
3. Provide your business details
Going through the set-up process of an Organization for your QuickBooks/Xero company or Synder Books – just fill in the information about your business and hit the Next step button.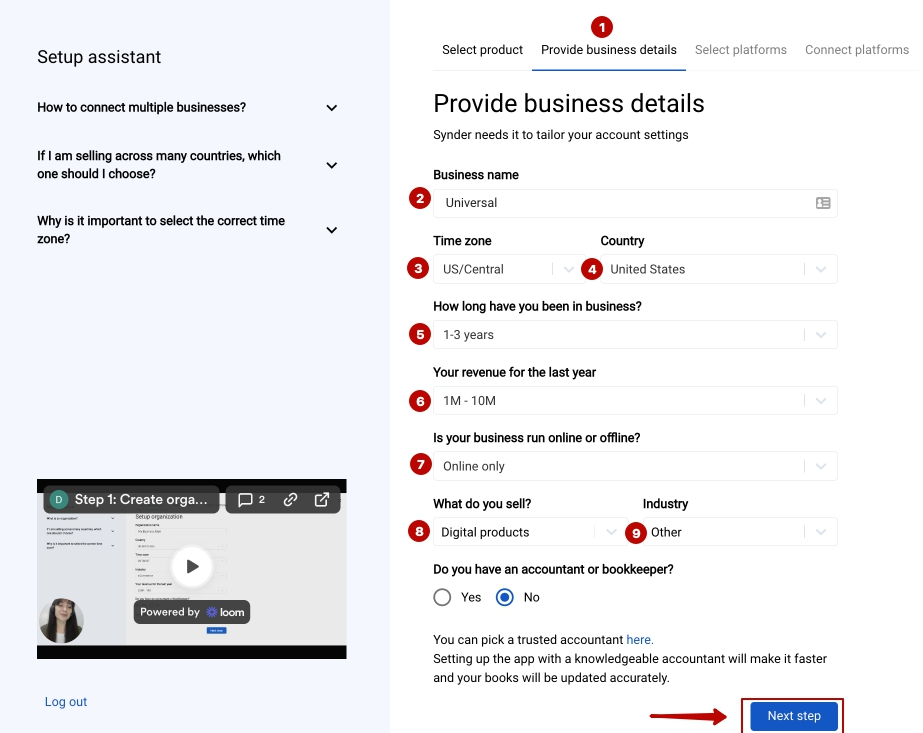 4. Select the platforms you would like to integrate
Now you need to select the platforms you would like to connect to Synder. Select BigCommerce and other sales platforms you would like to integrate with Synder (click View all processors to see the list of all available platforms) and hit the Next step button.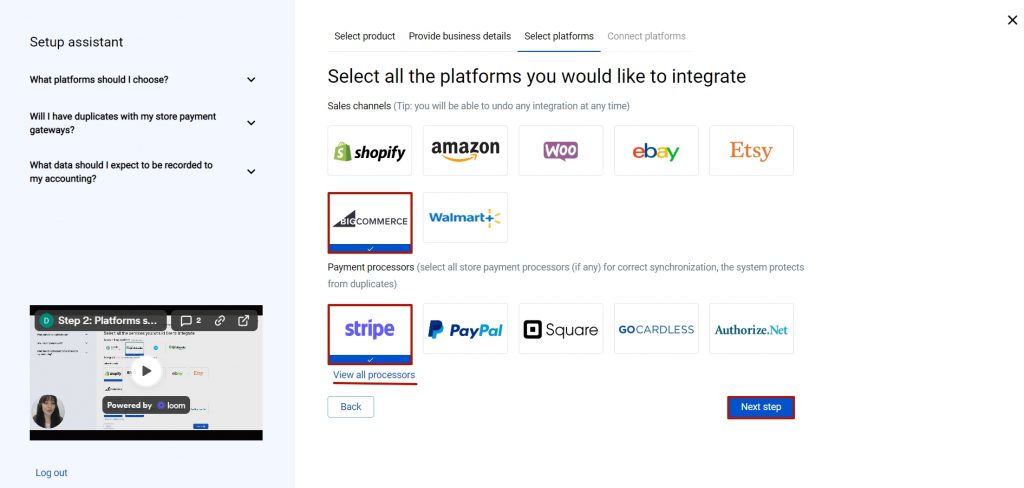 Note: Mark all the services you are using to receive payments, you will be able to connect all of them right away or skip the connection of particular integrations and set them up any time later.
5. Select and connect your accounting platform
Select your QuickBooks Online or Xero company by clicking on the Connect button and grant permission to the software to record data in your QuickBooks or Xero company or proceed with our own Synder Books.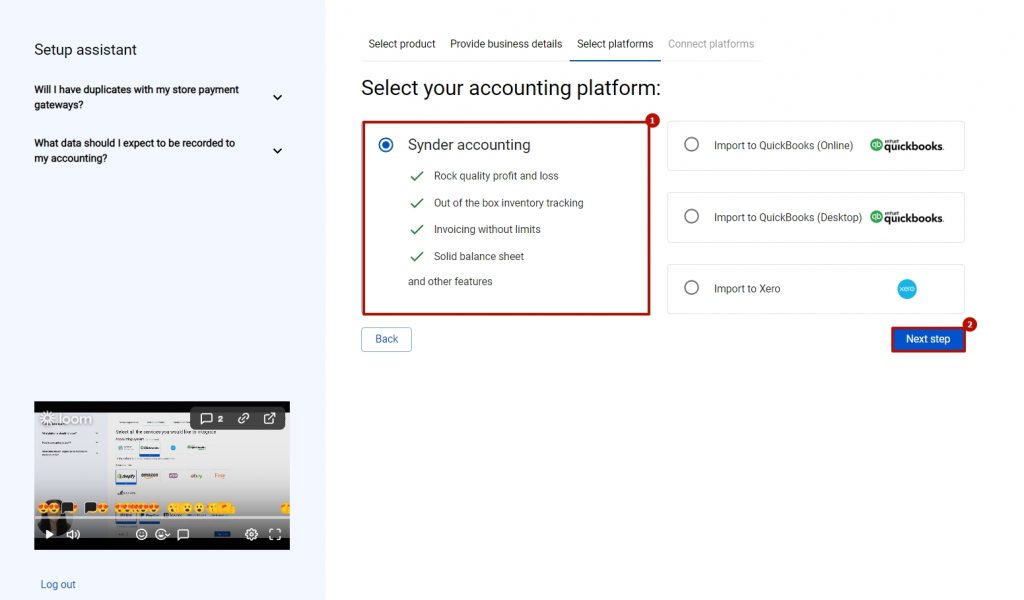 Note 1: if you are a QuickBooks Desktop user, check out this video tutorial to learn How to connect and sync data into QuickBooks Desktop.
Note 2: check out this guide if you would like to integrate QuickBooks Online or Xero.
If you're going to connect Synder Books, follow the steps on the screen to grant permission to the system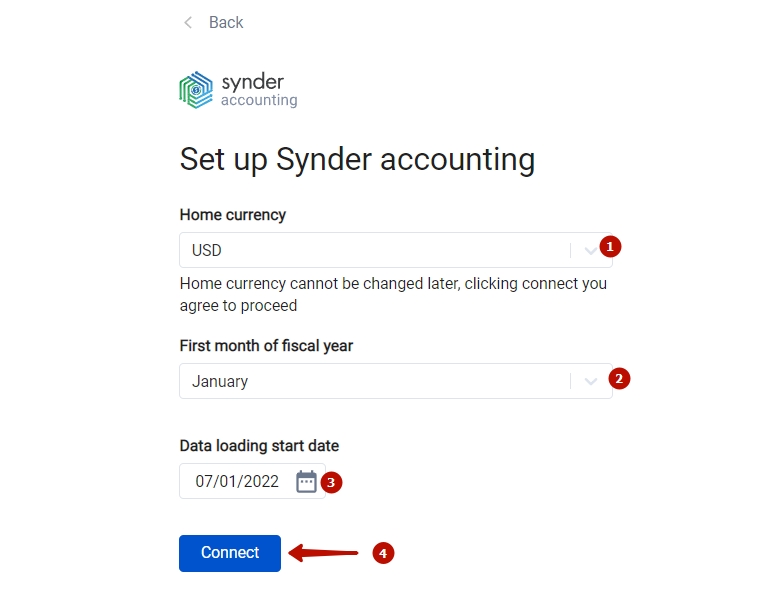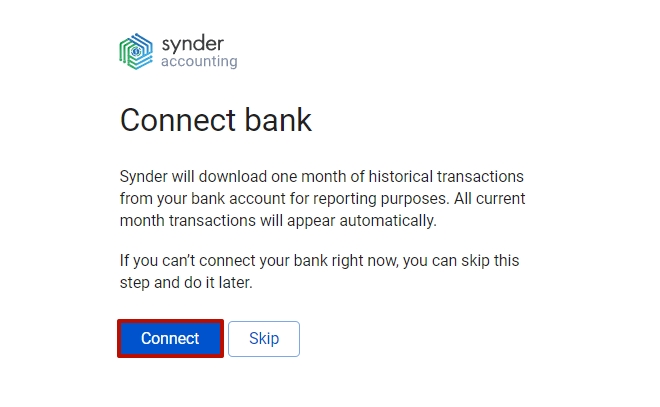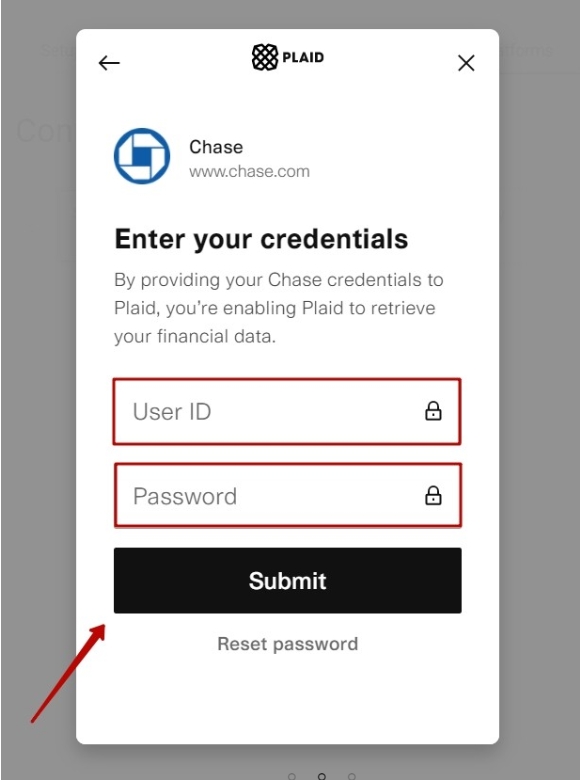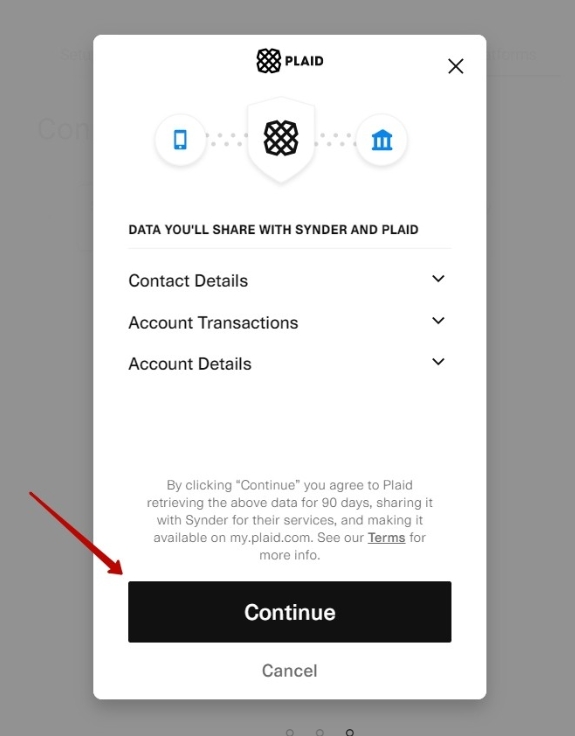 6. Connect your BigCommerce store
Almost there! To complete the setup you just need to connect your BigCommerce and other sales platforms to Synder:
Click on Connect if you are an admin. If you are not, click on Invite to invite the account owner.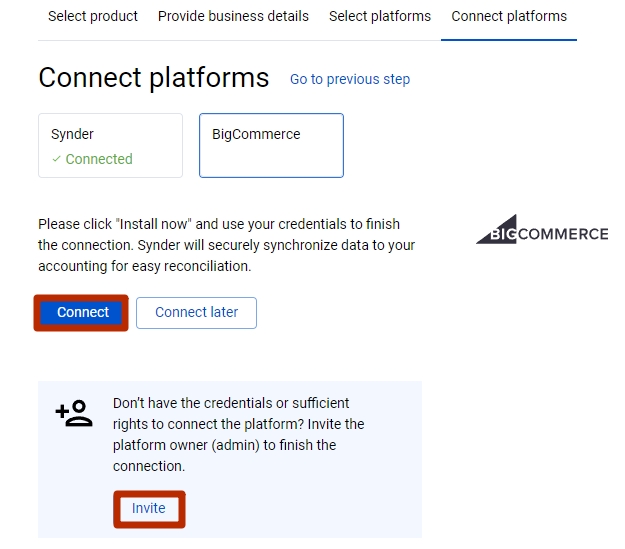 You can integrate other sales platforms one by one straight away or skip the connection for other additional payment processors and set them up later in the Settings:
Tap the Settings button on the left side menu → hit the Add payment platform button and select BigCommerce from the dropdown.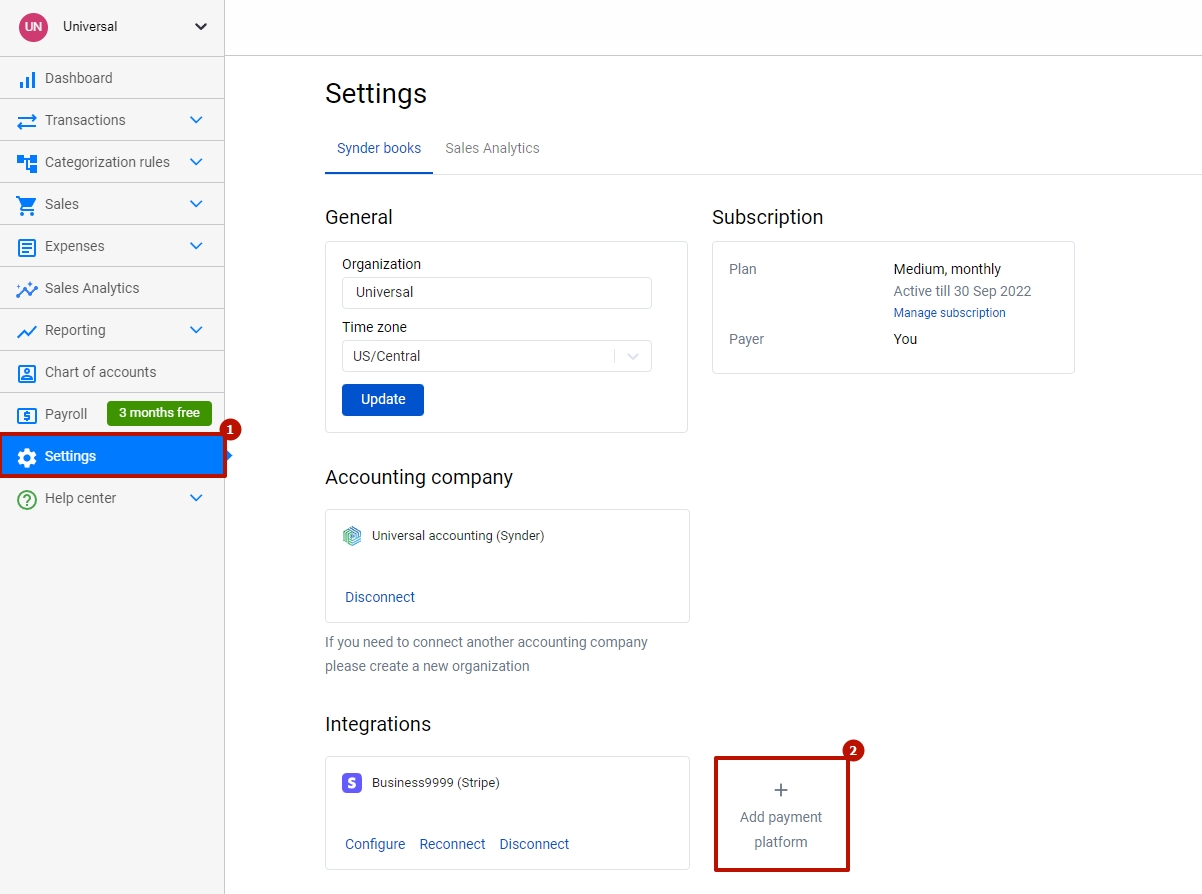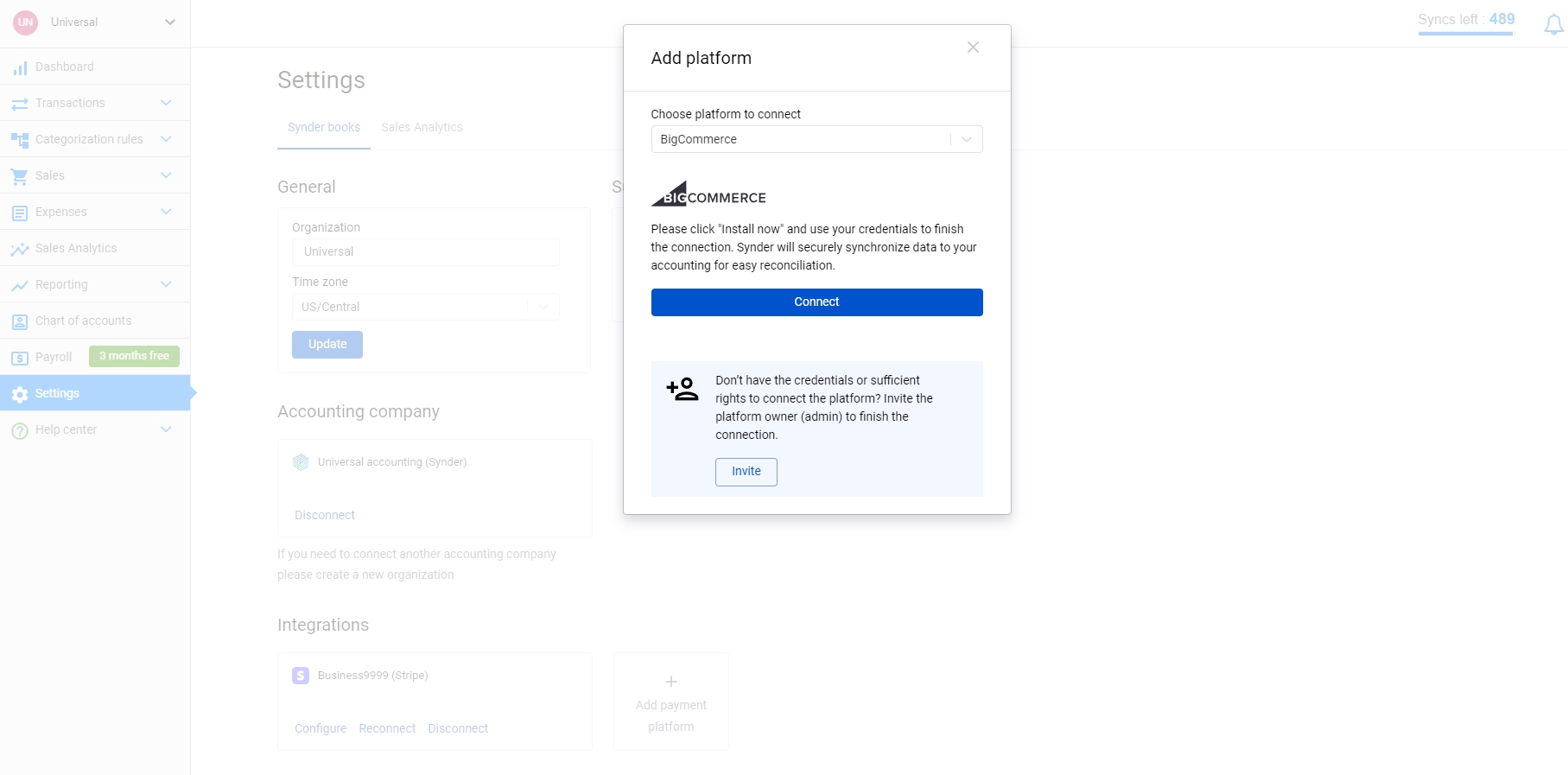 Note: You can find our detailed guides on how to connect your sales channels and payment providers to Synder accounting/QuickBooks Online/Xero via Synder in our Help center.
Once you have done so, proceed with the import of data (hit the Import Historical Data link in the top right corner of the Platform Transactions tab). After the import, you should be able to see all the orders in Synder available for syncing.

Tips and tricks on the BigCommerce integration
Note 1. Synder mirrors real money flow in your accounting by recording sales and expenses in the Clearing account (BigCommerce (required for Synder) in your books) that Synder creates automatically during the Synder accounting, QuickBooks or Xero connection.
Note 2. Synder protects your data with two flagship features: duplicate detector and rollback. You can give yourself peace of mind knowing that all the power is in your hands and your accounting is secured.
Note 3. BigCommerce sync without any payment platforms will create only sales receipts with gross amounts and without any fees or payouts, so the balance of the BigCommerce Bank account will be gross, not net – unlike with all other Synder integrations. You'll need to account for fees and transfers manually:
Fees: you may want to create one batch expense for all the fees for a week or a month instead of entering each fee.
Money transfers: you may need to create transfers in your Synder accounting, QuickBooks or Xero from the BigCommerce clearing to your business checking account to zero out the clearing account and reconcile checking.
Note 3 is valid only for cases when you don't connect to Synder anything other than a BigCommerce shop. If you connect your payment gateways to Synder separately alongside BigCommerce, everything will be synchronized automatically and ready for reconciliation with no need for manual interactions, like it usually works with our software.
Note 4. Synder currently fetches BigCommerce orders with completed, refunded, partially refunded, awaiting fulfillment and awaiting shipment statuses. We are working on parsing orders with other statuses.
That's it, you've successfully connected your BigCommerce account to Synder, enjoy the ride! If you feel like some adjustments are necessary (e.g. you would like to change tax, item or customer configs), you can manage that in Synder settings. Open them on the left menu → hit the Configure button under your BigCommerce platform. If you need to fill in gaps with missing data after the sync into your QuickBooks Online, like applying classes or locations to transactions, the Smart Rules feature will be of great service. Now, you can customize your Synder according to your needs.
Get in touch with the Synder team via online support chat, phone, or email with any questions you might have – we are always happy to help you!
Was this article helpful?