Proper accounting means paying employees on time, keeping financial records intact, and submitting business taxes accurately.
The problem for many businesses is adopting a more efficient approach to their central accounting. Luckily, there's a simple solution: cloud accounting.
In this guide, we'll explain the power of cloud accounting. We'll also cover some benefits and best practices you can implement when taking this approach for your business.
Let's dive in.
Contents:
2. How does cloud accounting work?
3. What's so special about cloud accounting?
4. Top benefits of cloud accounting software
5. Cloud accounting best practices to follow in 2023
What is cloud accounting?
Cloud accounting is the process of storing accounting software, reports, and financial documents on a remote server. Let's use Netflix as an example to drive this point home.
With Netflix, you can watch your favorite movies and TV shows. Do you want to know why?
It's because all of their content remains on remote servers. Whenever you select a movie, its content is pulled and broadcast to your screen.
Cloud accounting works in the same way. Whenever you log into your accounting software, you can pull your company's data straight from a remote server. This nifty feature provides convenient and secure access to your financial data.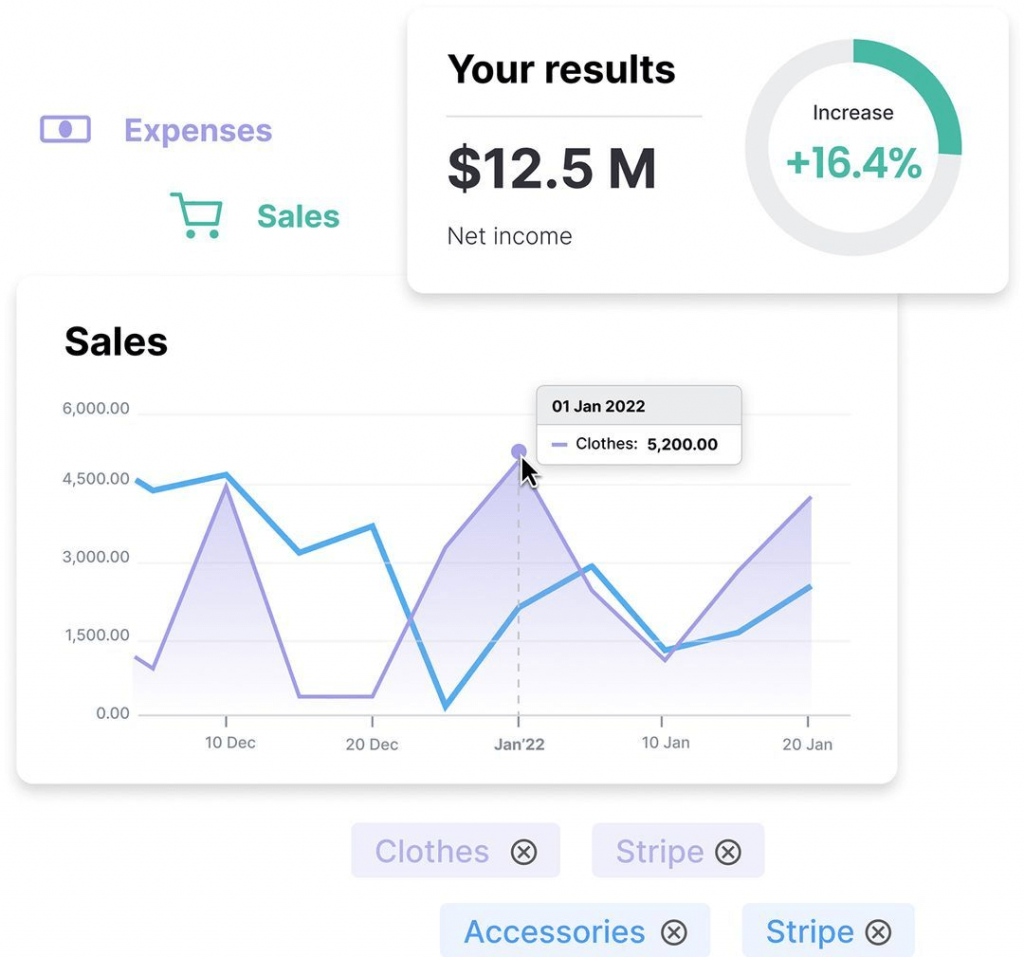 In other words, cloud accounting is the answer to solving the problems of efficiently maintaining your company's financial records.
How does cloud accounting work?
Cloud accounting works by storing all essential accounting functions over a remote server. Remote access makes it easier for all members of a company to access vital financial documents.
With the cloud, a company doesn't have to install (and set up) accounting software on every employee's computer.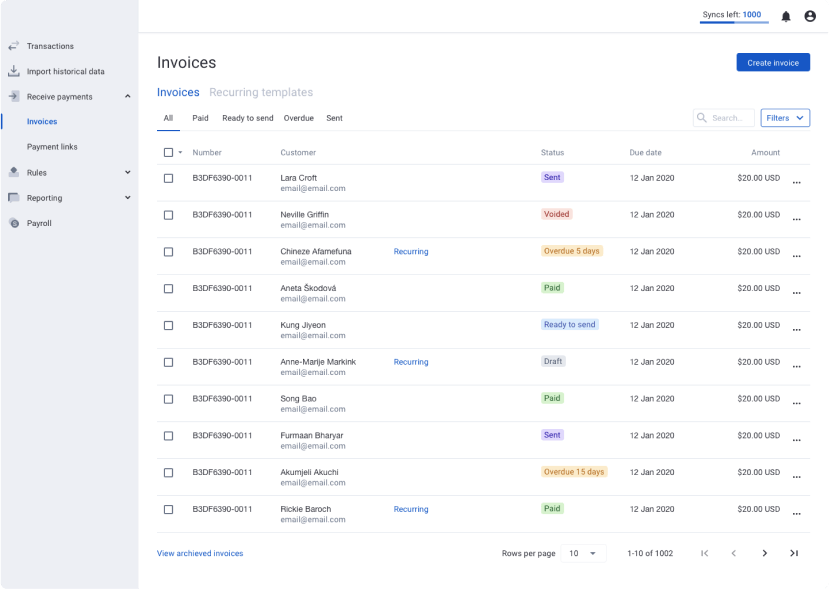 That way, financial planning and analysis (FP&A) teams and accounts receivable teams can all work together across different time zones and locations. Getting everyone on the same page is beneficial for reducing time, costs, and accounting errors.
On top of that, cloud accounting uses disaster recovery and data backup to protect your data in emergencies. Unlike traditional accounting methods, you store your data on a secure server, safe from technical problems, fire, and disaster.
What's so special about cloud accounting?
With traditional accounting, data access is geographically limited. Financial records are usually stored on hand, on computers, or in old-school filing cabinets.
This setup makes multi-user access and remote collaboration virtually impossible. Also, keeping physical and financial records can mean unauthorized access and possible destruction from natural disasters (like Hurricane Sandy which hit New York City in 2012).
Top benefits of cloud accounting software
Are you still not convinced that cloud accounting is the right move for your business? Don't worry. Let's dive into a few of the main benefits this ‌software can bring to your organization.
Access your financial data anytime and anywhere
One of the biggest benefits of cloud accounting is 24/7 access to financial data for all key collaborators. With cloud-based accounting software, you no longer have to worry about updating desktop software.
Most providers also have mobile apps you can use to access important data on the go. The beauty of cloud accounting is that it removes silos by making financial data available anytime.
Get a 360° view of your financial health
Cloud accounting also helps companies gain critical insights into their financial health. Back then, companies had to flip through hundreds and even thousands of financial documents to create reports.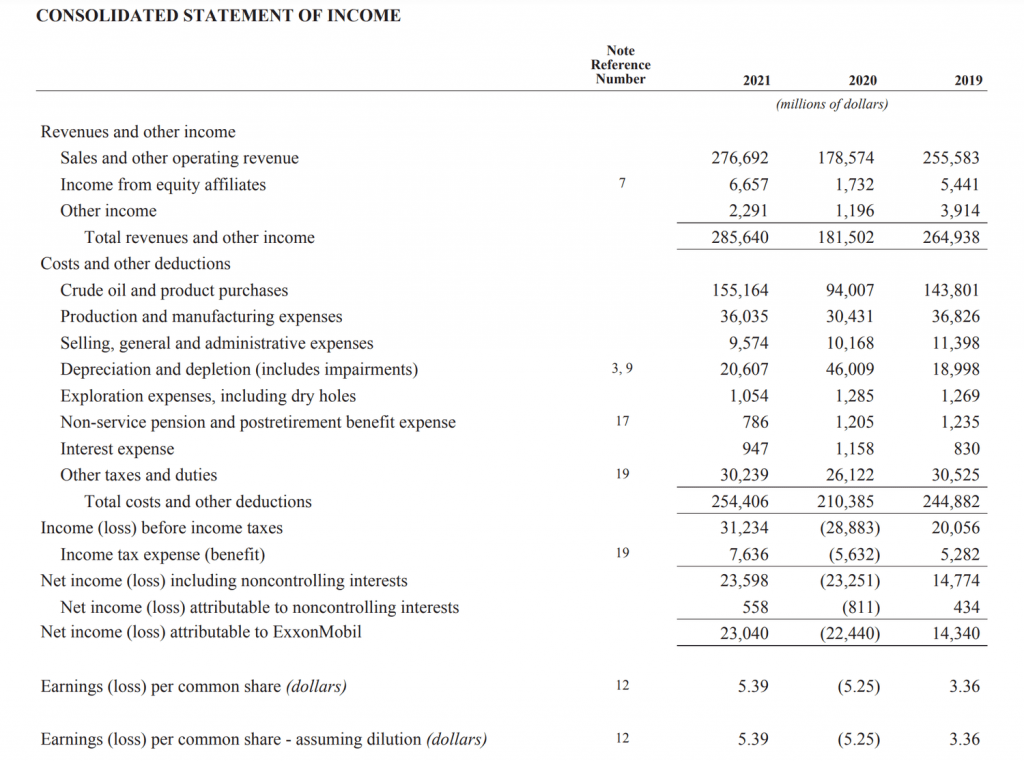 Nowadays, cloud accounting software can do all this work for you. That means you can make real-time decisions and improve the trajectory of your company. With this capability, you can focus more on meeting the rapid demands of running a successful business.
Use workflow automation to save time
Some important accounting processes are time-consuming and take away from urgent business tasks. For example, many companies have to schedule payments to vendors and freelancers every month.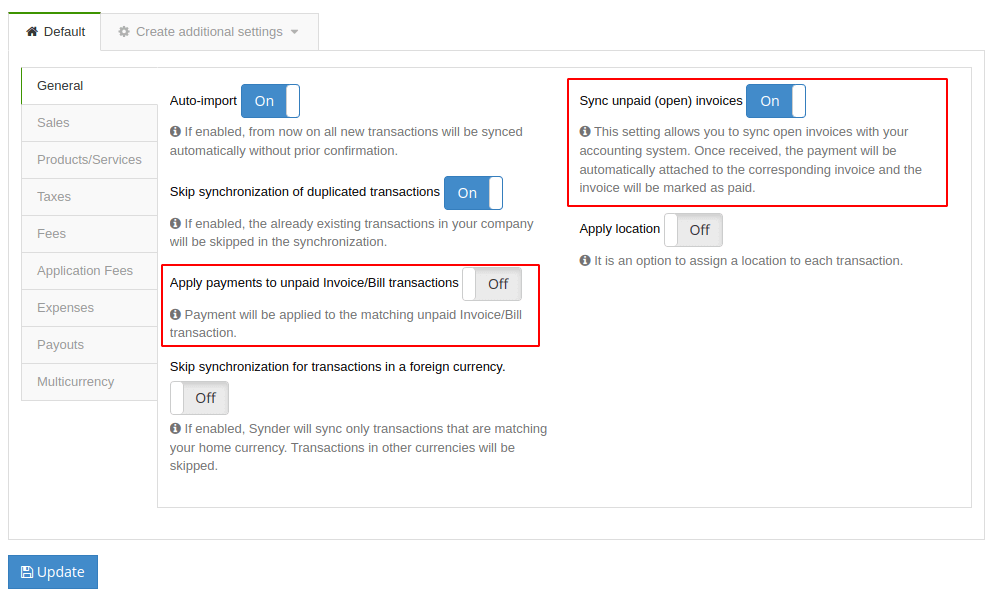 All of these invoices are for different amounts and on different terms. With cloud accounting software, you can create automated workflows to streamline these tasks.
Here's how this can work. You can set up each of your vendors with specific identification numbers. Furthermore, you can set up recurring payment dates for invoices for each vendor.
For freelancers, you can use the digital timesheet a time tracking app generates of all tracked work hours. Time tracking softwares can automatically organize all work hours on a digital timesheet that you can then export to your payroll software.
The result? You save a lot of time during monthly reconciliation. That's a huge win.
Improve workplace collaboration
Cloud accounting makes it easier to work with your accountant at any time. Your professional accountants can receive access to important financial documents and reports from wherever they are.
If your CFO is creating shareholder reports, they can do so from your cloud accounting software. If your accountant is gathering financial reports to submit your quarterly taxes, they can use your cloud accounting software.
What's more, is that you can give employees access to your software, depending on their level of security clearance. For example, you can give HR officers access to your certified payroll software and restrict them from accessing your bank information.
Lower your margin of error
Cloud-based accounting software centralizes all your company's financial data in one place. Think of it as a single source of truth. It gives your organization the benefit of entering invoices, vendor classifications, and other financial data on the same platform.
Since this data is coming from the same place, you can lower your margin of error when creating financial reports.
Plus, accountants are notorious for using shortcuts and formulas in Excel sheets. Excel is a great tool and all, but it opens the door to errors and inaccurate reports. Implementing cloud accounting helps get rid of this obstacle.
Use your cloud accounting software right away
Cloud accounting software doesn't require any download or installation. Since you host your data over a remote server, you can use your software right away once you purchase the subscription.
Traditional accounting software requires the opposite. First, you need to download it. Second, you need to constantly check for updates. Also, if your company experiences any issues, your IT team will need to step in and offer support.
Cloud accounting software is available wherever you have an internet connection. And it's more secure than traditional accounting solutions.
TL;DR It's easier to maintain. And you can sleep well at night knowing your data is safe from bad actors.
Receive available tech support right away
Although cloud accounting is more advanced than traditional software, there's still a chance you'll run into problems managing your data and accounts. Fortunately, most cloud accounting solutions have dedicated technical support teams on standby.
You can reach them via telephone, email, or live chat whenever you have a problem with your account. And you don't need to hire an in-house IT team (which significantly reduces your overhead costs).
Declutter the paper from your office
Handling your finances with a traditional general ledger can cause a significant buildup of paper (and books) in your office.
Not only does reducing extra paper help the environment, but it's also beneficial for the following reasons:
You can gain a broad view of your finances without going through hundreds of papers.
You can immediately import your data into the cloud and create instant reports.
You can minimize the risk of manual errors without paper documents.
With cloud accounting, you can automate your financial tasks, removing the need for maintaining physical documents (such as the general ledger).
The general ledger is the primary accounting record of a business (that details every transaction). Traditionally, managing this record required painstaking manual entry.
However, modern general ledger software provides seamless recording and tracking of every financial transaction. You can seamlessly link all of your data to create a ‌single source of truth for all your financial data.
Say goodbye to manual entries and stacks of paper. And say hello to a digital workflow that saves hours at the month-end close.
Cloud accounting best practices to follow in 2023
Now that you know what cloud accounting is, let's discuss how you can make this approach worthwhile for your business.
Make sure you back up your data
While using cloud-based accounting has ‌huge potential for small businesses, backing up cloud data is an important step.
Security and protection of your business data is a top priority. The last thing you want is to lose all of your data during a power outage or system failure. So it's important to know how to choose reliable vendors that offer seamless data backup solutions.

Here are some features to look out for:
Automated backups: regular, automatic saving of sensitive data
Encryption: keep your data safe even if accessed by an unauthorized user
Multiple storage locations: protection against location-specific disasters
Easy restore process: quick and straightforward data recovery
24/7 customer support: immediate assistance in case of issues
Use cloud business intelligence
As we mentioned earlier, one of the benefits of cloud accounting is that it allows small businesses to access and analyze their financial data from anywhere (anytime and on any device).
Your team can make faster and smarter decisions based on these real-time insights. For example, using cloud business intelligence, they can easily create interactive dashboards and reports that show key metrics such as cash flow, profitability, expenses, and customer behavior.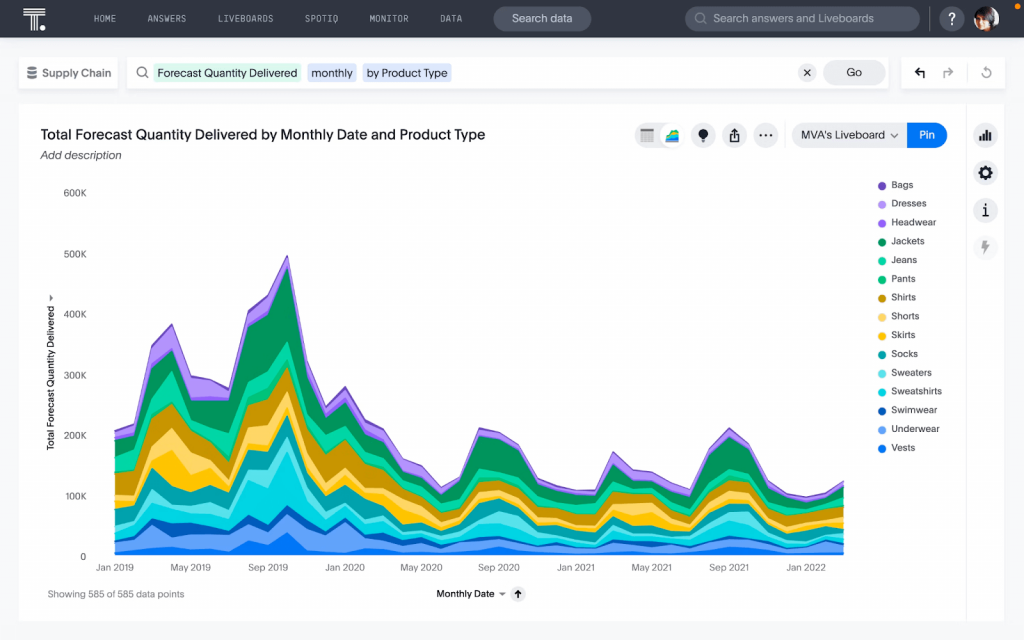 They can also leverage artificial intelligence and natural language processing to ask questions and get answers in seconds, without relying on IT or data experts.
That way, you can optimize your business performance and gain a competitive edge in the market. Sounds idyllic, right?
Add extra layers of data security
One of the biggest benefits of cloud accounting is also its biggest pitfall. When your data sits in the cloud, you must prioritize the security and privacy of your data.
This practice holds especially true when you're using third-party applications or services that connect to your cloud accounting platform. To do this, you should use a standard and secure protocol for authorizing access to your data, such as Oauth. Oauth is a widely used and accepted framework that enables you to grant limited and temporary access to your data without sharing your credentials or compromising your security.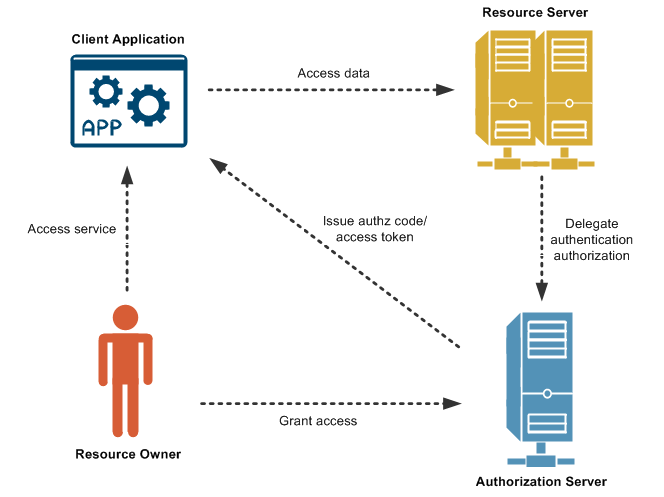 With Oauth, you can control who can access your data, what they can do with it, and for how long. With this solution, you can enjoy the convenience and flexibility of cloud accounting without sacrificing your data protection.
Understand your vendor's data breach policies
Cloud accounting technology isn't completely safe from data mishaps. These platforms operate on what's called a "shared responsibility model." That means if your company is involved in a data breach, the cloud accounting platform you use will only accept half the responsibility.
You must accept the other half of the responsibility, leading to legal and other fiduciary consequences. To avoid this less-than-ideal scenario, you should always understand your vendor's cloud security policies.
Here are some questions for a potential cloud accounting vendor:
How does your company handle data breaches?
What does your data recovery plan entail?
Does your encryption process work in transit and the cloud?
What level of support are you willing to provide during a data breach?
Asking these questions can make the difference in choosing a cloud provider that'll work for you (not against you) during a disaster.
Implement proper access-control standards
Access control is the process of controlling who has access to your data. This step is crucial for making sure your data doesn't fall into the wrong hands.
To do this, you need to document and set clear access-control standards. Access control goes beyond giving users specific access to company data. It also encompasses permission settings.
For example, you can give permission to specific employees that limit their access to specific company data either at the end of a project or after termination. When in doubt, proceed with caution using a "need to know" model for data access.
Final words
Millions of businesses across the world use cloud accounting for the same purpose:
Automate tedious accounting processes
Create financial data reports with ease
Protect proprietary company data
If you're still relying on traditional accounting methods, it's hard to ignore the major benefits cloud accounting can bring to your organization. So what are you waiting for?
Jump on the bandwagon and unlock the power of accounting software to reduce human errors and take your business to the next level.