If you're an e-commerce business, printing shipping labels might not probably be one of your major concerns. You might have a many other things to think about, such as ensuring your PayPal account is verified, protected, and so on. While you may not have thought about it at the start, but a successful business requires you to think carefully about every little detail. How will customers know where their orders are coming from? What will they use as the return address when sending back unwanted items? And how will they track their packages online to make sure they'll get all their orders?
Shipping labels can be one of the answers to these concerns. Creating shipping labels with PayPal is easy and fast, and it's what we'll talk about in this article.
Keep on reading to learn more about:
2. Why do you need to print shipping labels?
3. How to create shipping labels with PayPal?
4. Tips for printing shipping labels with PayPal
5. How to Create Shipping Labels with PayPal: Final words
What is a shipping label?
A shipping label is a sticker attached to a parcel. Usually, it contains information about the sender, recipient, and the item being shipped. Shipping labels are essential for any business that ships products to its customers, either online or in-person. These can include anything from e-commerce shops to newspaper subscriptions and more.
Shipping labels are typically used to print information like the address to send the package to, the sender's information, the type of shipment (such as priority, ground, express, etc.), and the weight of the package. They may also include a tracking number that customers can use to track their shipments.
Why do you need to print shipping labels?
Printing shipping labels with your company logo on them can help you establish a brand identity for customers to recognize. It's a nice way to help your customers feel they're dealing with a legitimate business rather than just another random seller. Customers want to know who is sending goods to them. They want to be able to see who is responsible for any mistakes that may occur or if any issues arise.
That's why shipping labels are so important. They're the first thing customers see after the goods have been delivered to their doorstep. Customers expect to see a shipping label on all the packages delivered to them. If they don't, they might be confused about when their order will come.
How to create shipping labels with PayPal?
If you're used to printing shipping labels the way most people do, you might probably use a desktop printer. Desktop printers can be pricey, but you can get around the high price of buying a printer if you print shipping labels regularly.
You have the option to use PayPal's shipping label feature. You can access it through the Business account settings, and it's what you need to start printing shipping labels using your computer.
First, select Shipping Labels as the action to perform. Skip selecting the specific shipping type.
On the next page, select Create new shipping label. Select the shipping label type, and enter the address information.
You can also add tracking information at this point. Once the label is ready, click Print shipping label to print it out.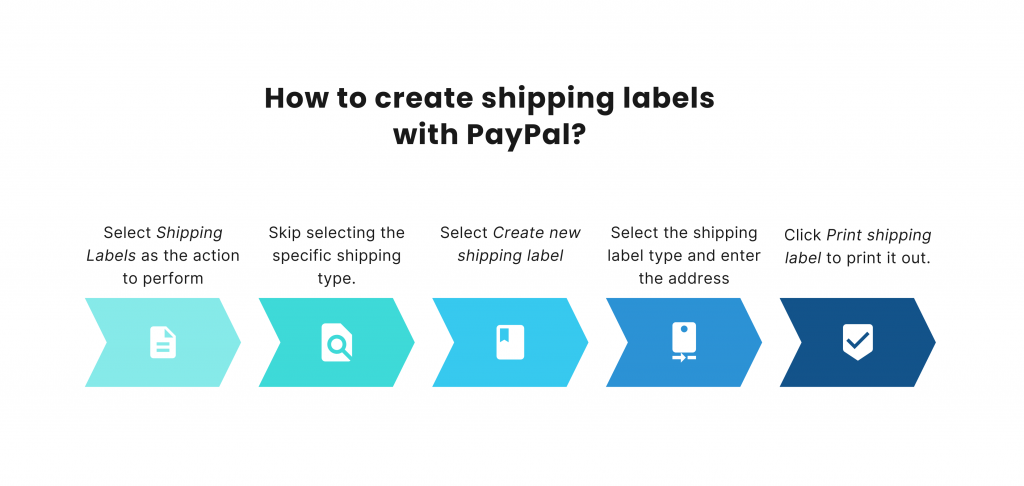 Tips for printing shipping labels with PayPal
Printing shipping labels with PayPal has a few extra considerations you might want to know about.
Make sure the shipping labels are clear, so customers can see them opening the package.
They should be easy to read and free from spelling mistakes.
They should also be made of quality material. The shipping labels are being held up to a lot of wear and tear, so make sure they won't get spoiled or torn.
The ideal way to use PayPal to print shipping labels is to use the Label Printer feature. It enables you to print shipping labels directly from your computer and also provides you with the option to print the labels using compatible thermal label printers.
How to Create Shipping Labels with PayPal: Final words
While selling with PayPal, you have so much to take care about, including seller fees, sales taxes, shipping, and overall, managing your PayPal payments, you shouldn't neglect small details, such as shipping lables. In fact, shipping labels are an essential part of running an online business. They're the first thing your customers will see once receiving their order, so might want to have them printed clearly and legibly.
Printing shipping labels with PayPal is easy and doesn't cost you anything. Still, you need to be careful about choosing quality materials to print the labels.