As a business owner, you know how important it is to track your website performance to understand how customers interact with your business through it, scale, and improve your operations. At this point, it's highly likely you use Google Analytics as the most popular analytics tool. Its popularity is no surprise, as it offers the most comprehensive tool set one can use to set up and track a plethora of SEO and marketing KPIs and tweak your online presence on the go.
However, for some reason, Google Analytics might not suit your peculiar needs, or you might find it hard to use. Whichever the reason, you might want to try an alternative option. Below, we gathered some Google Analytics alternatives you can look at.
Hop on reading to learn more about Google Analytics and its alternatives:
2. How does Google Analytics work?
3. Why you might need a Google Analytics alternative: a look at Google Analytics cons
4. 10 Google Analytics alternatives (free and paid) to look at in 2023
What's Google Analytics?
Let's start by recalling what Google Analytics is, how it works, and how you can benefit from using this tool.
Google Analytics (GA) is a web analytics software that offers a toolset for gathering website statistics and analytics for search engine optimization and marketing purposes. The software is available to anyone having a Google account at no additional cost. If you don't have an account on Google, you can still register with Google Analytics. It'll automatically bring you to creating your Google account (basically, it works for almost every Google product).
Google Analytics helps businesses track their website performance and the data on visitor trends and behavior. Implementing Google Analytics enables companies to identify the sources they receive traffic from, gather information about their customers' location and typical features, and track goal completions (such as sign-ups, purchases, or adding products to carts). This way, business owners can better understand the outcomes of their efforts, such as marketing success, customer acquisition or retention activities, etc., and thus, improve the overall performance of their business.
How does Google Analytics work?
In a nutshell, GA is all about gathering and interpreting data on website visitors and their interactions with it: be it reading a page, surfing through different pages, a click on a navigation link in the menu, a call-to-action button, signing up, or purchasing something. Google Analytics won't only track these actions but transform them into valuable insights into user behavior, their experience with a website, specific trends and patterns, and overall website performance and its ability to fulfill business goals. Let's break down what makes it happen.
How does Google Analytics get the data?
Google Analytics can track a website's visitors through their web browser using JavaScript code embedded on each page. This code sends various user data back to the Google servers every time someone visits or interacts with a page on your site, such as clicking links or filling out forms. As a result, you get detailed information about what pages people visited, when they did it, and what actions they took on a page.
How does Google Analytics present the data?
As previously mentioned, Google Analytics gathers various data on website visitors. Apart from the visited pages and taken actions, it includes user location, types of devices, operating system, etc.
Using this data, GA then compiles reports that provide detailed insight into visitor behavior on any given day or different periods (months/years). This way, a business owner can drill deep into customer data, such as:
What pages were most popular among visitors;
Where people came from (locations);
Which channels and media bring visitors (organic or paid search, email campaigns, publications, etc.);
What devices visitors used to interact with your website;
How long people stayed on certain pages;
What actions they took after visiting specific landing pages, etc.
All these pieces are important in understanding customer needs better and creating tailored experiences for them accordingly.
The bunch of reports under the GA e-commerce tab gives you specific insights into:
Total revenue;
Total number of transactions;
E-commerce conversion rate;
Average order value;
Cart abandonment rate, etc.
Moreover, Google Analytics allows setting specific goals to track customer actions vital for a business, such as clicking on certain links, sign-ups, etc., helping measure success against predetermined objectives.
Ultimately, the segmentation capabilities of Google Analytics allow users to drill down even further by slicing and dicing different segments based on various criteria, providing more granular insights into visitor behavior across multiple dimensions at once.
All this undoubtedly makes Google Analytics an invaluable tool for businesses driving better decisions on optimizing the performance of their sites and improving customer experience. Besides, it helps identify which marketing strategies are most effective in driving sales or leads so they can focus on what works best for them.
Why you might need a Google Analytics alternative: a look at Google Analytics cons
With all its comprehensive functionality, various reports, and multiple goals tracking, GA still has a range of limitations, making it not the perfect solution (frankly, have you ever seen the perfect one?). Though the solution has a stunning 88% market share, many businesses find it not satisfying their needs. And since the introduction of GA4 – a successor of Google Analytics – the number of unsatisfied voices seems to be growing. So, let's get a sneak peek into why businesses might want to search for a GA alternative.
A learning curve
I won't be lying if I say GA is a huge system offering so many possibilities. That's why you might invest substantial time to understand how it works and how to set up specific things, such as peculiar goals tracking, custom reporting, segmentation rules, etc. Often, you might want to get a GA certification for you or your employees to make the most of it. So, unless you need the most basic website analytics, you might need to scrape through some serious learning.
User-unfriendly interface
For some mysterious reason, the GA team is so fond of changing the navigation, menu structure, or the names of different tool sections with every significant update, making it difficult for users to catch up. Besides, they might take away certain functionality without introducing something instead (like specific goals tracking or certain segments), so you have to look for a workaround or say goodbye to tracking some useful things.
Little options for tracking specific business metrics
Being a great tool for all things SEO, Google Analytics still misses out on tracking and analyzing many other business-critical metrics. Even the e-commerce options can't cover all the necessary business insights (and many GA4 users already claim this section to be messed up compared to the previous GA version).
Data sampling
This one's been known for a long time. Data sampling, in a nutshell, implies analyzing a limited sample of your data to estimate the overall results. It means that often GA gives you an assumption instead of the real numbers. Sampling occurs automatically when more than 500K sessions are collected for a report (this figure can differ from GA version to version). And while it's not applied to standard reports, as soon as you customize them (for example, by introducing a segment, filter, or secondary dimension, etc.), say hello to sampled results. And when you customize your reports for a more granular view of your data, assumptions aren't something you expect to receive.
Privacy-related issues
Google Analytics has a long history of data privacy-related issues, especially when it comes to GDPR compliance and all things informing users of data collection and storage. Though GA4 solved this issue to some extent, there are still many questions about its privacy protection. So, when privacy is a number one point for the clients of your business, you might want to look for an analytics solution that covers this need to the fullest.
Lack of support
Google Analytics offers a vast knowledge base where you can find a lot about how to set up and use different things within GA. Moreover, there's a huge user community behind it, so people can discuss issues, workflows, and other things about how to make GA work for you the best way. However, the biggest flaw here is the time needed to find the answer to your question. And if you encounter an urgent problem, you might welcome some human support to help you analyze what's wrong and find the solution to your particular case without spending days scraping through piles of documentation and user discussions.
10 best Google Analytics alternatives (free and paid) to look at in 2023
Now, the above-mentioned are not all the drawbacks of Google Analytics but rather the most significant and universal ones. Depending on your business, you might find other cons, making GA not a perfect fit for you. With this in mind, you might want to look at solutions that can supplement the GA functionality or become a complete alternative to this option in your business tool set.
1. Synder Insights – best GA alternative for e-commerce businesses
Synder Insights is a powerful e-commerce analytics software providing online businesses with a comprehensive real-time and historical overview of their sales, customers, and product performance across multiple channels. Synder consolidates highly details transaction data from various sources, such as accounting, e-commerce platforms, payment processors, and popular marketplaces (including QuickBooks, Amazon, eBay, Shopify, Stripe, PayPal, and many more) into a plethora of hyper-informative reports enabling businesses to eliminate assumptions from decision making and manage their sales, products, and customer engagement based on accurate numbers. If your primary focus is on your business performance — besides understanding your traffic sources — Synder Insights can become your source of truth.
Synder's most prominent features include instant data import from multiple sources and tracking the most critical metrics for e-commerce businesses, such as customer lifetime value, returning customer rate, most/least purchased products, the time between purchases, inventory turnover, and many more across all your channels. It allows businesses to come up with better targeted, personalized customer experiences, improve sales channels profitability when and where necessary, and manage their inventory and supply more efficiently. A astounding number of 25+ integrations make Synder suitable for almost any e-commerce business, notwithstanding which platforms they use. Using Insights with other Synder products (such as Synder Books) can help build a robust and scalable e-commerce business management system protected from errors, data loss, and discrepancies.
Synder Insights comes in three pricing options that vary depending on the monthly number of orders to handle, starting at $79.20/ mo for up to 1000 orders. One of the options is a custom plan for enterprise-level businesses where the cost can be discussed with the Synder team.
If you believe Synder may suit you and have particular questions about how you can leverage it the best way, feel free to book a free demo with the team or sign up for a free trial (no credit card details, no commitment).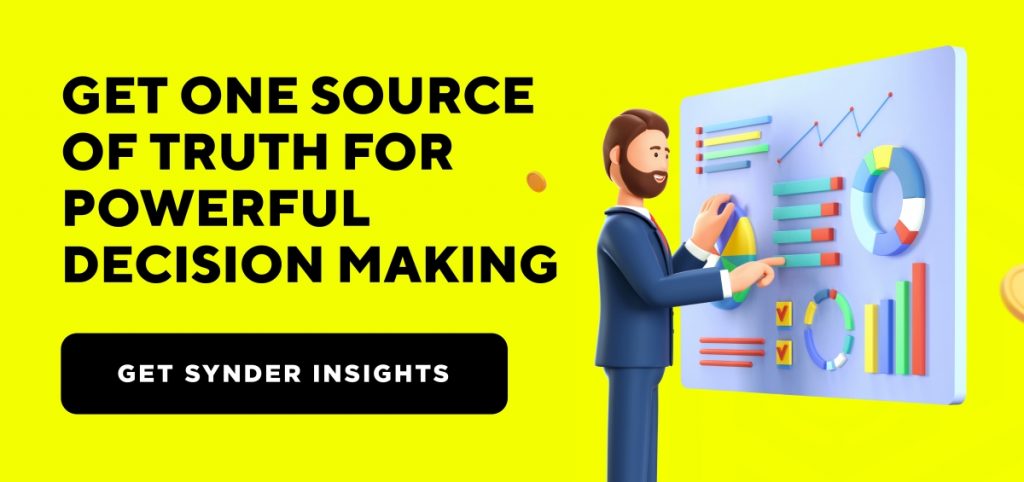 2. Mixpanel – best GA alternative for SaaS and product-oriented businesses
Mixpanel is a user engagement and behavior analytics software designed to give businesses a deeper understanding of how users interact with their products and why they act this way. It's a great tool for businesses to track and improve their user acquisition activities, retention rates, churn, and other product business-critical metrics. The analytics at Mixpanel focuses on user activities within a product or a service: be it signing up, watching a product demo, going with a trial, returning to using a product or service after some time, or interacting with various features – Mixpanel has an answer to how it happens, and what you can improve.
The most prominent features of Mixpanel include event tracking, funnel utilization, user trends and behavior analysis, churn risk acknowledgment, and more.
Mixpanel is free to track up to 100K users. After exceeding this number, you have two options: the Growth plan at $25/mo and the Enterprise plan, where you can discuss your cost with the Mixpanel team based on your particular needs.
3. Matomo – free open source GA alternative for marketing teams
Matomo is an open-source web analytics software enabling businesses to analyze web traffic, campaign performance, and user behavior on their sites. You can use Matomo in two ways: as a downloadable software or a cloud-based version, both options featuring safe and reliable data storage to ensure privacy and GDPR compliance. Matomo allows tracking a wide range of web metrics, such as unique visits, page views, access media, user location, and more. The tool analyzes the whole scope of a website's data, unlike GA, thus helping marketers identify even small patterns that otherwise could be overlooked due to data sampling.
Matomo's outstanding capabilities comprise real-time analytics, visitor profiling, heatmaps, session recording, funnel setup and tracking, etc. This way, businesses can clearly see the outcome of their marketing, enabling them to monitor and tweak the campaigns in real time.
The use of the on-premise version of Matomo is free of charge, while the cost of a cloud-based option depends on the monthly number of hits expected, starting at $19/mo for up to 50K hits.
4. Plausible Analytics – privacy-friendly lightweight alternative to Google Analytics
Plausible Analytics is a website analytics software designed for privacy-conscious businesses. It's very lightweight and gathers various website stats, enabling business owners to track and improve customer experience with their sites. Apart from monitoring and providing monthly or weekly reports on website traffic, Plausible allows users to tag their paid ads, social media posts, and emails with UTM tags to track and analyze the performance of various marketing campaigns.
The most stand-out features of Plausible Analytics include cookie-free analytics, full GDPR, PECR, and CCPA compliance, an interactive dashboard with access to real-time insights, and a bunch of integrations, such as with WordPress, Wix, Weebly, Google Search Console, and more.
Plausible Analytics comes at a comparatively small cost of $6/mo when paid monthly and only $4/mo when paid annually. A 30-day free trial is also available.
5. Clicky – privacy-friendly GA alternative with real-time analytics
According to multiple user reviews, Clicky is probably one of the best alternatives to Google analytics. It's a simple and easy-to-use web analytics tool that provides a wide range of traffic and visitor reports, including real-time reports, heat mapping, and more. Its dashboard provides a comprehensive overview of everything happening with a website in real time and for various periods, giving business owners instant insights into their website performance at a glance.
The most stand-out thing about Clicky is its Spy feature that allows you to monitor your current site visitors and all their actions or detect events, like someone linking to you, as they occur. At this point, you can better understand how people act when on your website in real time, see the possible bottlenecks within your funnels, etc., and react accordingly. Some users say the interface is a bit outdated, but the simplicity of use and the value provided compensate for it.
Clicky has a free version. However, its functionality is limited, so it can suit for tracking small sites with up to 3000 daily visits. The Pro plan starts at $9.99/mo and includes a wide range of premium features (like advanced segmentation, custom data tracking, goal tracking, etc.), excluding heatmaps and uptime monitoring. The full functionality is available starting with the Pro Plus plan at $14.99/mo. All new accounts can leverage a 21-day free trial with all the premium features included.
6. Leadfeeder – GA alternative for sales and marketing teams
Leadfeeder is a website visitor analytics software tailored primarily for sales and marketing teams. Its focus is not to show you just visitors. It can reveal companies that visit your website, i.e., leads, and give you information about them. The tool helps analyze how people get to your site, what pages they click, how long they stay (so you can estimate how much they're interested in your product or services), and more. The software is lightweight and easy to install (you can add the Leadfeeder Tracker script to your site in less than 5 minutes).
The most prominent features of Leedfeeder include lead filtering based on various criteria, such as location or browsing behavior. Another one is the prioritization feature. It automatically places the most promising sales leads on top of your list, thus helping you prioritize your acquisition activities. The tool integrates with Google Analytics, MailChimp, Pipedrive, Salesforce, HubSpot, and other business apps, so you can easily build it into your existing system.
The cost of Leedfeeder depends on the scope of unique leads (companies) you want to receive, starting at $59/mo for up to 200.
7. Woopra – multi-channel customer behavior analytics
When it comes to customer behavior tracking and analysis, Woopra can be a great alternative to GA. The tool can track usage across your website, product, and mobile applications, enabling you to perceive your performance as a whole and giving businesses better insights into their customer journey. It helps companies create a more targeted approach to customer acquisition and retention and drastically improve the customer experience at every level of the life cycle.
The most outstanding features of Woopra include the automated creation and customer behavioral profiles, including their update based on the changed trends. Woopra enables you to leverage the consolidated customer data from multiple sources, thus showing a customer's full history of interaction with your business: from the first touch to conversion (the platform offers 51+ integrations, such as with Salesforce, Marketo, Intercom, and more). Advanced analytics, including non-linear Customer Journeys, Trends, and Retention reports, gives companies a comprehensive overview of their customer experience across multiple channels and devices. This way, it offers them an invaluable opportunity to tailor personalized approaches to customers for every channel at the right moment.
Woopra is free if you don't exceed 500K actions a month. Starting with 1M actions to handle, the toll will cost you $349/mo.
8. Fathom – user-friendly privacy-first GA alternative
Fathom is a privacy-first web analytics software that enables businesses to track the most useful and informative website performance metrics in a user-friendly environment. Fathom ensures cookie-free tracking and 100% data ownership, making it fully privacy compliant under GDPR, ePrivacy, PECR, and CCPA. It also provides complete visitor results thanks to the technology that helps it bypass ad-blockers. Business owners can easily track all the necessary metrics and KPIs through a simple one-page dashboard containing various data modules, such as Content, Referrers, Device Types, Browsers, Countries, Events, and UTMs. Thus, Fathom provides businesses with instant insights into their website performance and user engagement, enabling them to create better user experiences and improve site conversions based on accurate data.
The most killer features of Fathom include shareable analytics dashboards (password-protected or publicly available) and site uptime monitoring. Fathom's multi-domain analytics allows you to track your performance across all domains and subdomains as a whole, as well as filter and drill down by domain.
The cost of Fathom Analytics depends on your monthly page views, starting at $14/mo for up to 100K page views and ending with $274/mo for 25M. The variety of plans in-between ensures you can smoothly and gradually scale as you grow.
9. Kissmetrics – GA alternative for marketers and product teams
Kissmetrics is a person-based analytics software enabling businesses to automate their customer engagement and help them increase conversions, engagement, and retention over the entire customer lifespan. It covers multiple aspects, including behavioral analytics, segmentation, and email campaign automation, to provide marketers and product teams with all the necessary metrics that drive online business and tools to make better product and marketing decisions.
Among the key benefits of Kissmetricks are revenue reports that show and compare the profitability of all sales channels and funnel reports with customer segmentation, helping outline the best-converting customers and build the profile of your ideal audience. You can also track the use of your product features and customer retention with the Cohort reports. Also, you can monitor how various groups behave over time as markets, competitors, and customer needs change. Activity reports encompass conversion tracking, page views, website usage, event and visits tracking by channel, and more, giving you multi-dimensional insights into your performance. Ultimately, you can leverage the A/B testing feature to quickly understand which of your tactics work and thus tweak your performance on the go.
The cost of Kissmetrics starts at $299/mo for the Starter plan with a 30-day free trial available.
10. Adobe Analytics – multi-channel real-time analytics for digital marketing teams
Adobe Analytics is a comprehensive web analytics software enabling businesses to better understand their web performance and drill deeper into customer behavior. It's enterprise-level software capable of collecting, storing, aggregating, and visualizing large amounts of data and turning them into valuable insights driving informed decisions.
The biggest benefit of Adobe Analytics is the granular customer behavior data segmentation based on multiple data points, which allows tracking customer behavior at each step of the funnel. Another powerful feature is custom report building, enabling you to gain control over different segments like metrics, visualization, dimensions, and more in an easy drag-and-drop manner. You can leverage the flexibility of combining multiple reports, graphs, and data points. Flow visualization can be particularly useful when you need to understand how users navigate through your site. And this is not an exhaustive list.
When it comes to pricing, it depends on many factors. That's why you need to discuss your case with the vendor to pick what fits you best.
Final word: do you need an alternative to GA?
The list of Google Analytics alternatives above is just a part of what the market can offer. I hope it can help you understand that GA is not the only comprehensive analytics tool out there – there are so many options that you can leverage. All you need is research and a clear understanding of what to track.
Don't get me wrong, Google Analytics is a great tool at so many points, helping you to analyze your web presence from multiple angles and improve your performance with actionable insights. However, it might not fit every business and not cover every particular need. So yes, the good rule of thumb is to always start with your goals and requirements and see how well GA covers them. You might need to combine GA with another tool, giving you deeper insights into your e-commerce metrics, lead management, or customer behavior. Or you might find that you can replace GA with a solution that fits your business best.