What Is a Gift Card and How Do People Account for Them?
A gift card is a useful tool to boost your sales but there are quite a few misconceptions about how to account for them. The most intuitive way would be to register those as your income – like all other products for which you have income accounts – but for gift cards, the flow is more nuanced. If you come to think of it, gift cards are your liabilities for deferred revenue because they represent your obligation to provide your customers with products or services worth the value of the gift card. That is why you need to set up a special Liability account to track them using Synder.
Note: the feature is available for Square users only.
How to Set Up the Liability Account for Square Gift Cards in Synder?
By default, if Synder comes across a new product (that is, a product that doesn't exist in your accounting company), it automatically assigns it to a Product Income account you specify in Products/Services settings in Synder. With Square gift cards, you might want to set up another account due to the reasons described above, so that Synder is able to create the Gift Card item with the correct account.
To set up the liability account for creation of Square gift card item please:
1. Selecting the organization needed at the top right of the page – – > Settings button on the left menu of the app – – > find payment platform (if you have several connected) you want to customize settings for – – > click on the Configure button.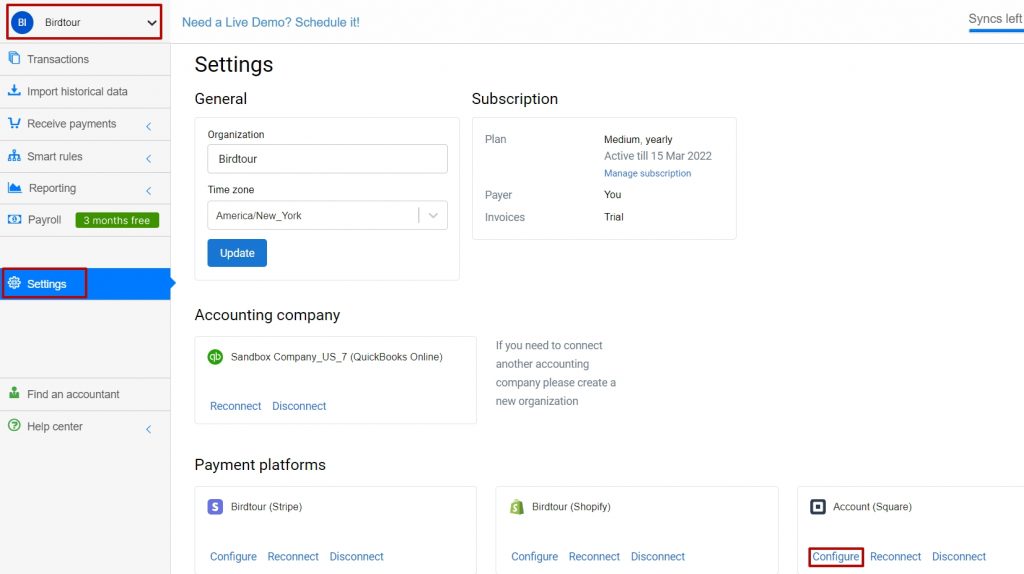 2. Navigate to the Products/Services tab.
3. Select the Liability account from the dropdown.
4. Click Update.
Once this is done, a new synced Square gift card will be linked to this account, rather than a "Product income account".
What If You Need to Change the Account for Gift Cards in QuickBooks or Xero?
Each product is assigned an account in your accounting company so that you can track them in Profit and Loss reports. However if the gift card account has been selected in Synder settings after the creation of the Gift Card product, the setting above will not change the way the income is categorized, as the wrong account is already linked to the item in your QuickBooks or Xero. You can change this in your QuickBooks to make sure the Gift Card item is linked to the correct account:
Go to Sales → Products and Services and locate the Gift Card product there.
Click Edit to edit it.
Specify the liability account that you'd like to use to track gift cards.
To change the product liability account in Xero:
Go to Business → Products and Services.
Click on the Gift Card product.
Once the details of this product are open, click Edit item.
Select the necessary liability account.
Congratulations! Now all your future transactions involving gift cards will be tracked on the liability account you've specified. Here's to proper accounting!
Was this article helpful?