How does it feel? Just a few more days and we will step into a new fascinating year! 🎄
For Synder, the past 12 months have been really exciting. We've gained experience and this helps us to move forward and create even more options and features for our customers — for you. All of these things would have been impossible without your unyielding support and the incredible workflow of our team who have always been ready to adapt to any changes and have helped thousands of online businesses.
Here we want to share with you some of Synder's achievements in 2021 that we've made happen together:
#1. Features 💻
Your endless support and trust in Synder zoom us to be one of the best accounting solutions for e-commerce and SaaS businesses. We've released a bunch of new cool features for your usage! Here are some of them:
Multi-organization client management for accountants — the day-to-day process of dealing with multiple clients at the same time is not an easy one. But this feature will make it much easier to handle everything even during the busiest time.
Income and expense categorization — now bulk categorization available as well. This feature enables you to keep track of your finances. List your income and expenses to see the whole picture of your business growth.
The P&L and balance sheets report — this one was tailored for e-commerce businesses. Such reports will show all of your business income and expenses for one fiscal period. They are useful for understanding the business' profitability and its financial position.
Synchronization of Stripe open invoices and Stripe top-ups — now you can easily synchronize months' worth of your historical transactions from Stripe with no time limit. All Stripe transaction types are supported.
Taxes sync for QBD — all your data flow now can be recorded to QuickBooks Desktop. No need for manual synchronization.
Excel import feature — this feature allows you to import any data from an Excel spreadsheet to Synder and then operate with the uploaded data as with regular transactions by syncing them to your accounting.
#2. Integrations 🔗
Integrations are more than just a way for different platforms to talk to each other. We've worked hard to make the transition for e-commerce businesses as easy as possible and built new integrations. These additions allow all of our users to automate the bookkeeping process for the following platforms:
E-commerce platforms: BigCommerce, WooCommerce, Etsy.
Payment platforms: Clover, Afterpay, authorize.net, Bluefin, Payrix (Integrapay), Braintree, GoCardless.
#3. General 📊
⭐️ We are thrilled to be backed by Y Combinator — the world-class startup accelerator in Silicon Valley! Top companies such as Airbnb, Dropbox, Stripe, Twitch, Coinbase etc. have participated in Y Combinator as well. 
This year we have also:
processed more than $2B worth of transactions
synchronized 40k transactions on a daily basis
got acquainted with all of you — our users — across almost 20 platforms including Shopify, Amazon, eBay, Stripe, Square, PayPal, Etsy, Clover, BigCommerce, WooCommerce, Braintree, etc.
got 700 new positive reviews with kind words from you across G2, TrustPilot, QuickBooks, and other review platforms — this is the biggest motivation for us
released stand-alone Synder accounting solution!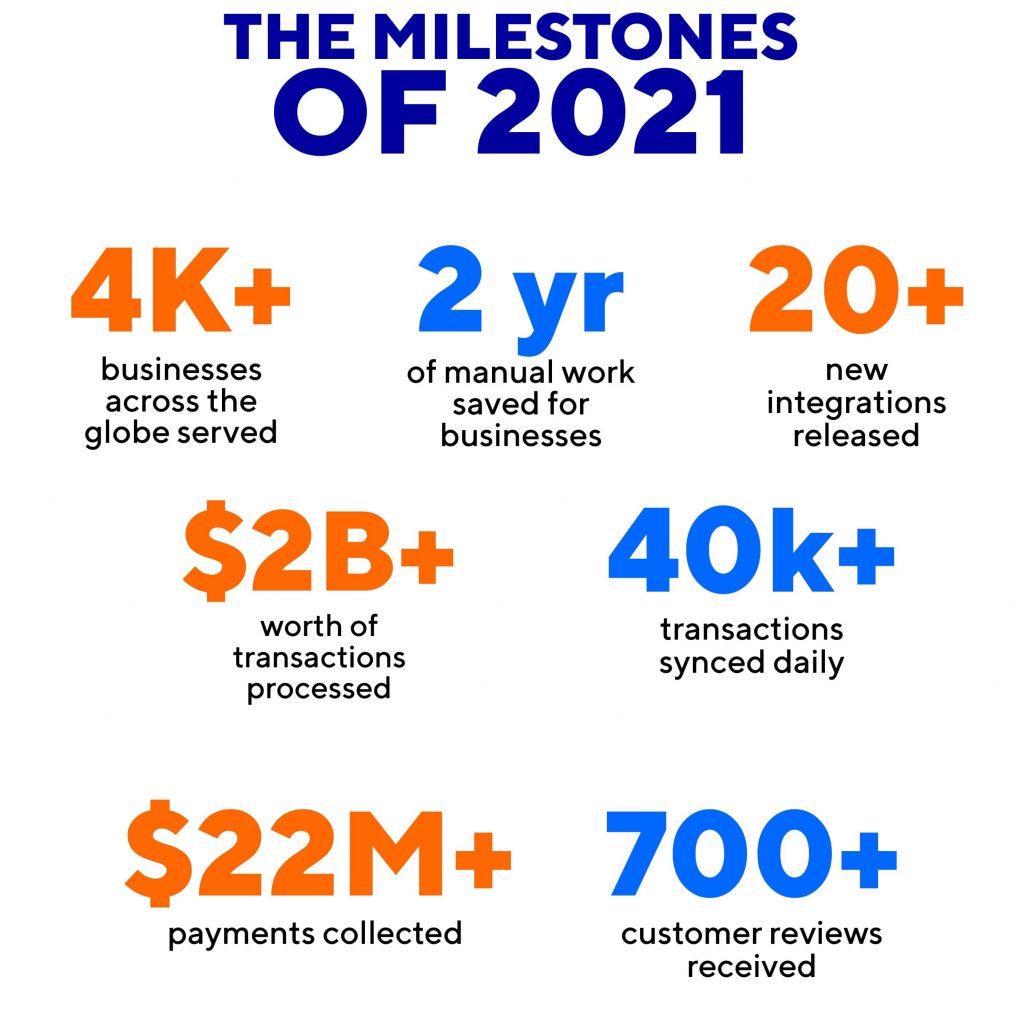 #4. Blog 📝
In 2021, we've come up with a bunch of useful ideas in Synder blog on how to scale your business and catch the hottest trends on the market. Here are the top 5 articles for the past year that you might find interesting:
#5. Collaborations 🤝
We've also made a lot of new and cool friends! Together with the viral creators and great specialists in e-commerce, Saas and accounting field, we've brought value to your business, educated and entertained you during this challenging year. Learn more of our collaborations you can benefit from now:
How to make e-commerce accounting? → Hector Garcia, Greg Kyte
How to simplify accounting in the busy season? → Karlton Dennis, Gabrielle Lee
What are the secret tools for a successful Amazon FBA business? → Farida Bayoumi
How to succeed in print-on-demand? → Shimmy Morris
How to choose the best software for your business? → Mika Slaats, Silicon Valley Girl
How to streamline financial business processes and free some time for marketing? → Jeff Bullas
#6. Press 🤳
Participating in each event and getting known by others are some kind of boost for us. None of that would have been possible without your trust in the work we are doing. Let's take a look where we've been featured this year:
It feels like time's been going by so fast. But looking back, we can say that we've really created a lot of good memories and made it till the very end of the 2021 year. Together. We are grateful for your endless support and kind words. However, the best is yet to come!
With this letter, we want to thank you for taking the time to stop by. From all of the Synder team we wish you a miraculous Christmas and hope all your dreams will come true! Spend these days with your loved ones to recharge your batteries for the upcoming 2022 year.
Let's make next year even more special and memorable!