Running out of cash is one of the major reasons about 20% of e-commerce businesses fail during the first year (and by the fifth year, the percentage rises to about 50%). Accounting – a backbone of any business – is a key to understanding a business's cash flows and the language a business speaks to the owner. That's why business owners must control their accounting and understand how the money moves through their business to be aware of how it performs and make informed decisions.
Synder helps business owners stay on top of their accounting and ensures their financial consultants have accurate accounting reports for analysis and tax filing.
Daily Summary is a recently introduced feature that makes Synder even more beneficial. Here's how e-commerce business owners can leverage it.
Why is e-commerce accounting more challenging?
E-commerce accounting is peculiar and usually more challenging compared to other online businesses. The volume of business transactions to record is typically larger. Moreover, the e-commerce model often implies multi-channel sales.
This way, it might be harder to control where transactions come from and, due to the amount of data, find a duplicate or other errors should they sneak into the accounting. Sales transactions, apart from financial data, might contain customer and product details that business owners might not wish to track in accounting, preferring to use CRMs or other e-commerce analytics solutions for this purpose.
At this point, typical challenges that an e-commerce business owner may potentially face with accounting fall into importing larger numbers of transactions, correctly categorizing transaction details, protecting the books from data duplication, and reconciling the books with the bank.
The volume of transactions might affect the work of an accounting solution slowing it down, or the import of data may fail due to the limit of the number of transactions per import that some accounting software might have. Besides, data import solutions might charge per transaction, so it can be pretty costly to bring a month's worth of transactions into accounting (and you might not even need all the transaction details in the books).
Correct categorization of a large number of transactions might take time. For a business owner, it means either allocating more of the precious time to bookkeeping or paying more to a bookkeeper or accountant to do this job (and since they charge you per hour, it can be a substantial spending). Moreover, inaccurate categorization negatively affects your financial statements, resulting in misconceptions about business performance and challenges during tax filing.
Reconciliation can go wrong if a duplicate sneaks in or some transaction is missed in the books. The more transaction records you'll have to look through, the more difficult and time-consuming it can be to find where the error occurred.
How to leverage Daily Summary to facilitate e-commerce accounting?
Synder automatically brings business transactions from one or several data sources, such as e-commerce and payment platforms, into accounting systems, capturing and recognizing all the transaction details. Enabling the Daily Summary feature will allow users to import summarized totals of the day's scope of transactions instead of the per transaction import.
How does the Daily Summary feature work?
When the Daily Summary feature is enabled, Synder batches the daily amount of transactions into a single journal entry of highly relevant financial data for each payment platform and posts it into accounting once a day. Synder automatically puts transaction details into the correct categories, thus ensuring all incomes, expenses, fees, and taxes are correctly reflected in the accounting reports.
What are the benefits of Daily Summary for a business owner?
Synder's Daily Summary feature allows users to record financial data in the books without overloading the system with unnecessary details — purely numbers needed to understand business performance and prepare informative accounting statements and accurate tax returns. This way, it drastically facilitates the management of the books, offering business owners a comprehensive yet simple overview of their incomes and expenses. At the same time, it helps build more fruitful relations with the accounting specialists, freeing them from the import task and letting them focus on the analytical part of their job powered by the accurate and relevant financial data already prepared in the books. Frankly, it's a win-win for business owners and accountants.
A range of smart solutions makes it work so smoothly.
Focus on the finances
With Daily Summary enabled, only relevant financial information gets into the books, preventing them from being overloaded with unnecessary details. It also speeds up data import.
An important note. You can still access all your transaction details from all your connected sales channels, should you need a comprehensive overview of your sales, profitability of the products, and customer behavior. With Synder Insights – a powerful e-commerce analytics solution, you'll get them all neatly gathered in a single reporting dashboard ready for analysis.
Category mapping
To help ensure all transaction details get categorized into the right accounts, Synder's Daily Summary features a mapping functionality that you can use to point out where your incomes, expenses, fees, taxes, etc., should be placed in the books. You can either use the preset mapping or map everything manually. Accurate categorization helps ensure you'll reconcile your accounts literally in a couple of clicks.
Automation settings
For business owners who prefer more control, Synder offers two options. You can select totally automated data import, which means that once set up, Synder will keep synchronizing your daily summaries in the background with no more action needed from your side. Another option that you can choose allows users to check the created journal entries before posting them in the books. This way, you'll need to manually initialize synchronization each time you want the journal entries to be posted.
How to enable the Daily Summary feature in Synder
At the initial setup of Synder, when users connect sales channels and accounting platforms, they'll be offered to select the preferred synchronization mode, such as Per transaction or Daily Summary. The process is pretty straightforward and intuitive. Here it is step by step:
1. Choose the Synder product you're going to use: in this case, it's Synder Sync: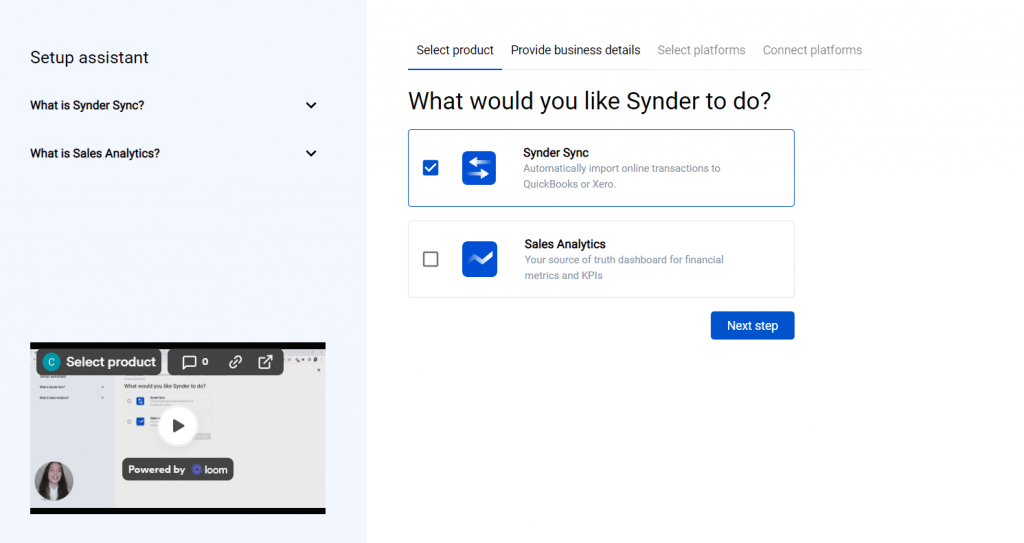 2. Provide your business details: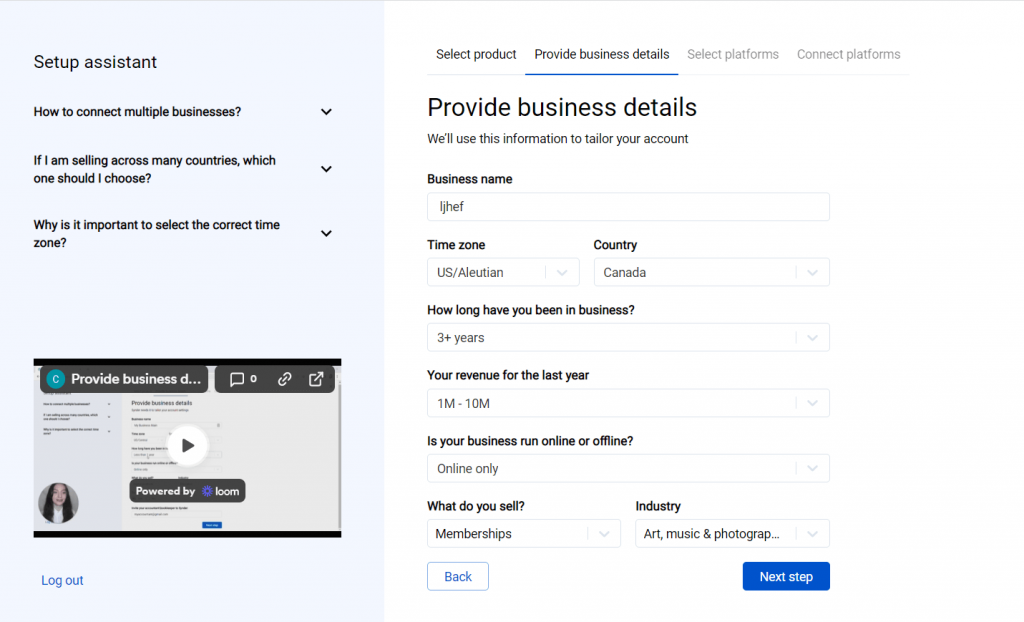 3. Select a sales channel you what to fetch your transactions from: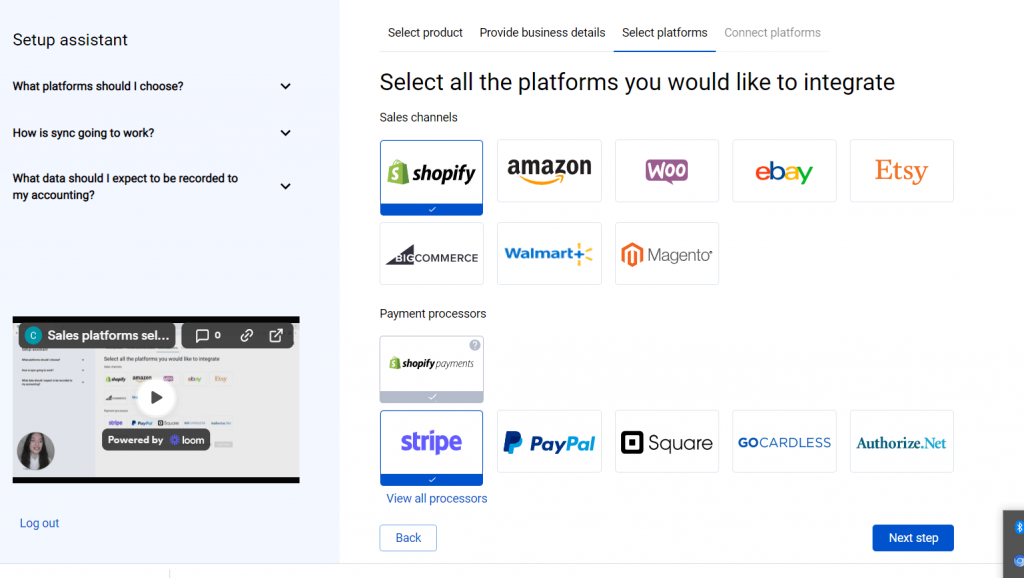 4. Select an accounting solution you're using:

5. Choose Daily Summary as the preferred data synchronization mode:

You've just set it up!
More benefits?
Synder helps business owners protect their sensitive financial data by letting them share access to its system with the third parties (bookkeepers, accountants, CPA firms) that help with handling e-commerce accounting, instead of granting them direct access to the original data sources. Moreover, users might want to have instant insights into the performance of their sales, customers, and products through the e-commerce analytics dashboard that puts together data sets from all their sales channels.
Want to know more about Synder Sync or other products by Synder?