In today's digital marketplace, choosing the right e-commerce platform is crucial for businesses looking to establish a strong online presence. Magento and WooCommerce are two leading platforms that offer powerful solutions for creating and managing online stores. At this point, we will compare WooCommerce vs Magento and explore the key differences between these platforms, focusing on pricing, hosting, dropshipping, integration with accounting software, and ultimately guide you in choosing the platform that best suits your business needs and size.
Let's get the WooCommerce vs Magento battle begin!
What is Magento?
Magento is an open-source e-commerce platform, robust and highly flexible, that empowers businesses to create feature-rich online stores. Magento offers a wide range of functionalities and customization options to meet the unique requirements of businesses across various industries. With its scalable architecture, Magento caters to both small businesses and enterprise-level organizations.
Magento offers several outstanding features that set it apart from other e-commerce solutions. Here are some of the standout features of Magento:
Advanced customization options
Magento offers businesses the ability to customize their online stores to meet their specific requirements. By providing access to the source code, developers can design unique and highly customized user experiences.
Scalability and performance
If you're looking for an ecommerce platform that can handle a lot of traffic and a big product catalog, Magento might be a good choice. It has features like caching and database optimization to keep things running smoothly, even when there's a lot of activity on your site. Plus, Magento is designed to be scalable so you can keep growing without running into performance issues.
Rich product catalog management
A great feature Magento provides is the excellence in managing complex product catalogs. It supports multiple product types, attributes, and custom options. Businesses can easily create and manage product variations, bundles, and configurable products, enhancing the flexibility of their online stores.
Multilingual and multicurrency support
For businesses targeting international markets, Magento provides robust multilingual and multicurrency support. It allows the creation of localized versions of the store, enabling customers to browse and make purchases in their preferred language and currency.
Mobile-first approach
With the rise of mobile commerce, Magento emphasizes mobile responsiveness and a seamless mobile shopping experience. At this point, Magento offers mobile-optimized themes and responsive design capabilities, ensuring that the online store looks and functions well on various devices.
Built-in SEO features
Magento prioritizes search engine optimization (SEO) by offering built-in SEO features. It enables businesses to optimize page titles, meta tags, URLs, and other essential elements to improve their store's visibility in search engine results.
Robust marketing and promotion tools
In order to increase customer engagement and sales, Magento offers a variety of marketing and promotion tools such as discounts, coupons, cross-sells, up-sells, customer segmentation, and personalized recommendations.
Integrated payment gateways
Magento integrates with multiple payment gateways, offering customers a variety of secure payment options. It supports popular payment providers, allowing businesses to offer a seamless checkout experience to their customers.
Multi-store management
With Magento, businesses can manage multiple online stores from a single backend. This is especially useful for companies operating multiple brands, international sites, and catering to different target audiences. Each store can have its unique design, products, pricing, and localized content.
Extensive third-party integrations
Magento has a vast marketplace of extensions and integrations, allowing businesses to enhance their store's functionality with ease. From CRM systems and email marketing tools to ERP and shipping solutions, Magento integrates with a wide range of third-party applications.
Magento is an ideal choice for medium to large enterprises and businesses with intricate e-commerce needs due to its exceptional features. Its flexibility, scalability, and customization options allow businesses to create and maintain highly personalized and efficient online stores.
What is WooCommerce?
WooCommerce, on the other hand, is a powerful WordPress plugin that seamlessly integrates with existing WordPress websites, transforming them into fully functional e-commerce stores. Known for its user-friendly interface, WooCommerce provides an ideal solution for small to medium-sized businesses, allowing them to leverage the popularity and versatility of the WordPress ecosystem.
Let's check out what WooCommerce can show under the hood:
Seamless integration with WordPress
Being built on WordPress, WooCommerce seamlessly integrates with the powerful content management system (CMS). It leverages the familiar WordPress interface and functionality, allowing businesses to manage their online store content and other informational resources in one place.
User-friendly and intuitive interface
WooCommerce provides a user-friendly and intuitive interface, making it easy for both beginners and experienced users to set up and manage their online stores. Its intuitive dashboard allows for smooth navigation, product management, and order processing.
Flexibility and customization options
WooCommerce offers a high level of flexibility and customization. It provides a wide selection of themes and templates to choose from, allowing businesses to create visually appealing and unique online stores. Additionally, developers can customize the platform to meet specific business needs using its extensive hooks and filters.
Extensive plugin ecosystem
One of the standout features of WooCommerce is its vast plugin ecosystem. With thousands of free and premium plugins available, businesses can enhance the functionality of their online stores with features such as advanced product variations, booking systems, membership options, and more. The plugin marketplace allows businesses to extend and customize their stores without extensive development work.
Scalability and growth potential
WooCommerce can handle online stores of all sizes, from small businesses to enterprise-level operations. With proper hosting and optimization, businesses can scale their stores to accommodate increasing traffic and sales volumes. This scalability allows for seamless growth and expansion as businesses evolve.
Strong SEO foundation
WooCommerce inherits the powerful SEO capabilities of WordPress. It provides features such as customizable permalinks, meta tags, XML sitemaps, and clean URL structures, enabling businesses to optimize their online stores for search engine visibility and rankings.
Comprehensive product management
With WooCommerce, managing your products has never been easier. You can easily add and categorize your products, define their attributes, set their stock levels, and keep track of your inventory. It even supports digital goods, making it perfect for businesses that sell downloadable and virtual products.
Secure and PCI compliant
Security is a top priority for any e-commerce business, and WooCommerce ensures a secure shopping experience for customers. It follows industry standards and offers built-in security features, regular updates, and compatibility with secure payment gateways. WooCommerce is also PCI compliant, ensuring the safe handling of customer payment information. (It's still worth noting that upon common belief, Magento provides stronger security for online stores than WooCommerce, so it's safe to say that both solutions are highly secure).
Extensible shipping options
With WooCommerce, businesses can offer customers a variety of shipping options, including flexible methods. Multiple shipping zones, rates, and carriers are supported, so businesses can create shipping rules based on factors like weight, location, or product type.
Data analysis and reporting
WooCommerce offers built-in analytics and reporting tools that provide insights into sales, customer behavior, and store performance. Businesses can track key metrics, generate reports, and make data-driven decisions to optimize their marketing strategies and improve overall performance.
As you can see, WooCommerce has everything to be a popular choice for businesses of all sizes, particularly those already utilizing the WordPress ecosystem. Its flexibility, customization options, and extensive plugin ecosystem empower businesses to create and manage highly functional and scalable online stores pretty smoothly.
Let's compare Magento and WooCommerce as e-commerce platforms
As you can see, both Magento and WooCommers can make a perfect choice for an e-commerce business. So at some point, it might be hard to choose between the two solutions without considering some factors that help distinguish between them. We'll look at the differences between Magento and WooCommerce, including pricing, hosting, dropshipping possibilities, and integration with accounting software. Understanding these distinctions can help businesses select the platform that best aligns with their business needs and goals. So, let's dive into the details.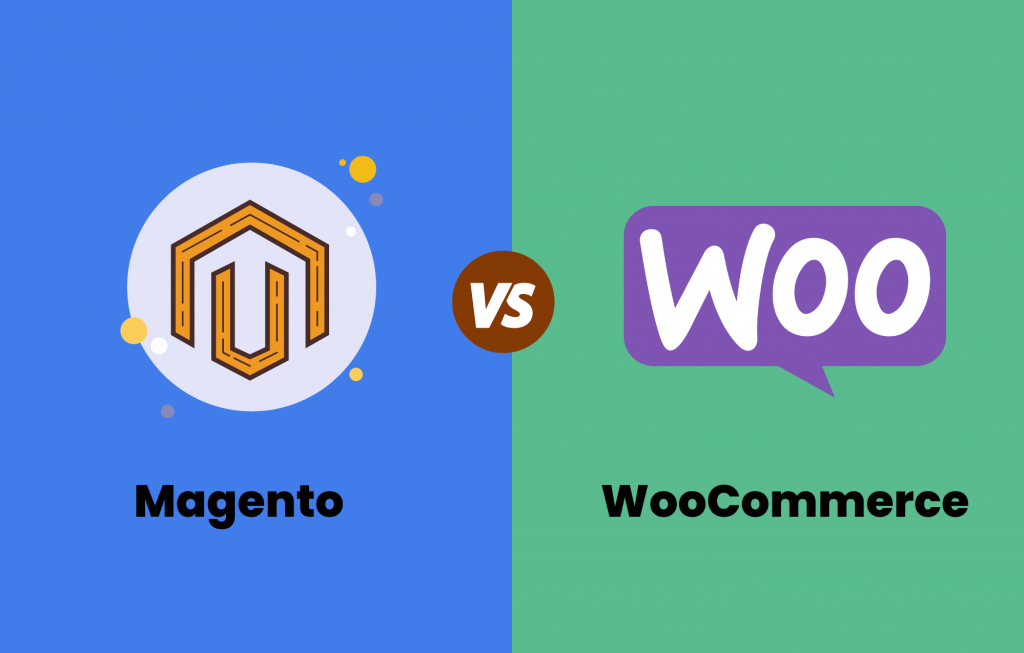 Comparing Magento and WooCommerce – Pricing
When comparing WooCommerce vs Magento, the pricing aspect is essential to evaluate the costs associated with each platform.
Magento pricing
Magento offers different editions, including Magento Open Source (formerly Community Edition) and Magento Commerce (formerly Enterprise Edition). While Magento Open Source is free to use, Magento Commerce comes with licensing fees and additional expenses. It's important to consider factors such as development, maintenance, and extension costs when opting for Magento.
WooCommerce pricing
On the other hand, WooCommerce offers a free core plugin, which is an advantage for small businesses and startups with limited budgets. However, there may be costs associated with optional extensions, themes, and add-ons. Additionally, expenses related to hosting, SSL certificates, and payment gateways should be considered. Still, WooCommerce is built on the budget-friendly platform of WordPress. Moreover, WooCommerce add-ons tend to be more affordable than Magento's. So, while you can't say that WooCommerce is completely free, it definitely is more accessible for smaller businesses.
Comparing Magento and WooCommerce – Hosting
Hosting plays a crucial role in the performance and scalability of an e-commerce platform. So, let's see which hosting options, those of Magento or its rival, seem to be a better fit for your business.
Magento hosting
Magento provides options for on-premises hosting, requiring businesses to manage their infrastructure or employ a hosting provider. It also offers cloud hosting solutions, such as Magento Commerce Cloud, which provides scalable and managed hosting infrastructure. Magento cloud hosting offers benefits like flexibility, automated scaling, and enhanced security.
WooCommerce hosting
WooCommerce provides flexibility in choosing hosting options. It can be hosted on shared hosting environments, which are cost-effective for small-scale stores with moderate traffic. Alternatively, managed WordPress hosting services specifically optimized for WooCommerce are available, offering improved performance, security, and support. It's important to consider the server capabilities and resource allocation based on your store's anticipated traffic and resource requirements.
Comparing Magento and WooCommerce – Dropshipping
Dropshipping is a popular business model that allows store owners to sell products without maintaining inventory. So, which platform is better tailored for dropshipping, Magento or WooCommerce?
Magento dropshipping
Magento offers native dropshipping features, allowing businesses to streamline their operations. Additionally, Magento integrates with popular dropshipping platforms, enabling seamless order fulfillment and inventory management. However, it's crucial to evaluate the limitations and ensure that dropshipping capabilities provided by Magento align with your specific requirements.
WooCommerce dropshipping
WooCommerce offers a variety of plugins and extensions dedicated to dropshipping. These plugins integrate seamlessly with popular dropshipping services, facilitating inventory management, order fulfillment, and tracking. WooCommerce's user-friendly interface makes it easier for store owners to manage their dropshipping operations. It's important to assess the suitability of WooCommerce's dropshipping solutions based on your business needs.
Whichever you choose, Magento or WooCommerce, if you think about starting a dropshipping business, you might want to consider reading our beginner's guide to dropshipping.
Comparing Magento and WooCommerce – Integration with accounting software
Efficient financial management is vital for any e-commerce business. At this point, the ability of an e-commerce platform to integrate with accounting software is a necessity. This way, businesses can ensure accurate recordkeeping, reporting, and tax filing, while minimizing the time and effort needed to perform bookkeeping tasks. So, another important aspect of the WooCommerce vs Magento comparison will be devoted to how they integrate with accounting software.
Magento integration
Magento offers native integrations with various accounting software solutions, allowing businesses to automate financial processes and reporting. It supports popular accounting software such as QuickBooks, Xero, and Sage. Integration with accounting software enables accurate tracking of sales, expenses, and taxes, saving time and effort in manual data entry.
WooCommerce integration
WooCommerce provides plugins and extensions specifically designed for seamless integration with accounting software. With the right plugin, businesses can synchronize e-commerce data, including orders, invoices, and customer information, with their accounting system. It's important to consider the compatibility of accounting software options with WooCommerce and evaluate the ease of syncing e-commerce data for accurate financial management.
How do Magento and WooCommerce help accept payments
As an e-commerce business, you must offer customers the flexibility to choose how they want to pay for products and services. Accepting payments is vital, and both Magento and WooCommerce provide robust options, including POS options. However, it's essential to consider the differences between the two. Let's compare Magento and WooCommerce payment acceptance capabilities.
Magento payment options
We'll start by looking at what Magento has under the hood in terms of payments.
Magento supports multiple payment gateways, including popular options like PayPal, Authorize.Net, Braintree, and Stripe. It offers built-in integrations with these payment providers, making it easier for businesses to accept online payments. Additionally, Magento has a flexible architecture allowing for the integration of custom and less common payment gateways.
Magento provides extensions and integrations with POS systems, helping businesses flawlessly connect online stores with physical retail locations. It allows for unified inventory management, synchronized product data, and consolidated reporting across online and offline sales channels.
Magento offers flexibility in setting up different payment options, including credit cards, debit cards, online wallets, bank transfers, cash on delivery, and POS payments. This variety allows businesses to cater to various customer preferences and offer a seamless checkout experience.
International payment support
Magento's multilingual and multicurrency features allow businesses to accept payments worldwide. With support for multiple currencies, businesses can display prices and process payments in the local currency of their customers.
WooCommerce payment options
Now, let's go through the payment-accepting options WooCommerce provides and see whether they're much different from those of Magento.
WooCommerce provides a vast selection of payment gateways that can be integrated into the platform, including built-in support for popular payment gateways such as PayPal, Stripe, Square, and Amazon Pay. Additionally, WooCommerce has an extensive library of payment gateway extensions, allowing businesses to integrate with specific providers based on their region or business requirements.
WooCommerce offers plugins and extensions that facilitate seamless integration with POS systems, enabling businesses to unify their online and offline sales channels, synchronize inventory, and provide a consistent customer experience across different touchpoints.
With WooCommerce, businesses can provide their customers with a wide range of payment options, such as credit cards, debit cards, digital wallets, bank transfers, cash on delivery, and POS payments. This flexibility ensures that customers can choose the payment method that best suits their needs, making the checkout process more convenient for everyone.
International payment support
Similar to Magento, WooCommerce supports international payments and enables businesses to accept payments in multiple currencies. This feature is beneficial for businesses targeting global markets and customers.
Overall, both Magento and WooCommerce offer a wide range of payment options and integrations with popular payment gateways. They also provide opportunities for POS integration, allowing businesses to streamline their online and offline sales processes. The choice between Magento and WooCommerce, at this point, depends on factors such as the specific payment gateways and POS systems you require, the ease of integration, and the level of customization needed for your payment processes.
Drawbacks for e-commerce businesses Magento and WooCommerce show
While Magento and WooCommerce offer powerful e-commerce solutions, it's important to consider potential drawbacks that businesses might encounter when using these platforms. Understanding these limitations will help you make an informed decision and prepare for potential challenges. In this article, we will explore the drawbacks of both Magento and WooCommerce, highlighting areas where businesses may face difficulties. By structuring the piece using headings, we can address each platform's drawbacks individually, providing a comprehensive overview of the potential challenges businesses may encounter.
Drawbacks of Magento
Magento, though providing multiple benefits and flexibility as an e-commerce platform, is not super intuitive, so you might need to invest some time and effort into learning how to set it up to work best for your needs. It also features comparatively higher costs associated with running a business on the platform, and optimizing it for a better performance can be a chunk of work. Let's look at the challenges users might face with Magento in more detail.
Complexity and learning curve
Magento is a feature-rich platform that offers extensive customization options. While this flexibility is beneficial for businesses with specific needs, it can make the platform more challenging to grasp for beginners. It requires time and effort to navigate the complex interface and learn how to effectively use its advanced features.
Due to its complexity, Magento often requires technical expertise to implement customizations, develop custom modules, and manage the platform effectively. This can be a disadvantage for smaller businesses with limited technical resources and budgets, as they may need to rely on hiring developers or agencies for ongoing support and maintenance.
Higher development and maintenance costs
While Magento Open Source (formerly Community Edition) is free, Magento Commerce comes with licensing fees and additional costs. This can be a significant investment, particularly for small businesses and startups with limited budgets.
Magento's extensive customization options allow businesses to tailor their stores to specific requirements. However, implementing complex customizations, as well as developing custom modules, can be time-consuming and costly. It's essential to factor in the expenses associated with development, testing, and ongoing maintenance.
Hardware and hosting requirements
Magento offers the flexibility of on-premises hosting, which gives businesses full control over their infrastructure. However, this requires technical knowledge and resources to manage servers, security, backups, and scalability. Alternatively, businesses can opt for cloud hosting, such as Magento Commerce Cloud, which provides managed hosting infrastructure, but it comes with additional costs.
Magento's feature-rich nature and the ability to handle high traffic volumes make it resource-intensive. As a result, businesses may require more robust server configurations, which can increase hosting costs.
Performance optimization challenges
With its extensive functionality and customization options, Magento can sometimes experience slower loading times compared to simpler e-commerce platforms. This can impact user experience and conversion rates.
To ensure optimal performance, businesses using Magento need to invest in regular optimization, caching mechanisms, content delivery networks (CDNs), and server scaling. These ongoing efforts require technical expertise and can add to the maintenance workload.
Drawbacks of WooCommerce
Now, let's look at what can hamper your experience with WooCommerce. Choosing this platform, you might want to consider its limited scalability and native functionality, plugin compatibility issues, and high level of support dependency. Let's look at those in more detail.
Scalability limitations
While WooCommerce is suitable for small to medium-sized businesses, larger stores with high traffic volumes may face scalability limitations. The platform's dependency on WordPress architecture can pose challenges in handling complex operations and large-scale transactions.
As WooCommerce is built as a WordPress plugin, it inherits the scalability limitations of WordPress. Customizations and plugin integrations can impact performance, necessitating careful planning and optimization for larger-scale operations.
Limited native functionality
WooCommerce provides essential e-commerce functionality out of the box, but it may lack some advanced features available in Magento. Businesses often need to rely on third-party plugins and extensions to meet specific requirements. While there is a wide selection of plugins available, businesses should carefully evaluate their quality, compatibility, and ongoing support.
The reliance on third-party plugins and extensions can introduce complexities and potential compatibility issues. Regularly updating plugins can be crucial to ensure security and compatibility with the latest version of WooCommerce.
Support dependency
WooCommerce's support ecosystem is driven by the community and plugin developers. While the WooCommerce core team provides some support, businesses may have to rely on external resources, such as plugin developers, community forums, etc., for prompt technical assistance. The level of support can vary depending on the specific plugins and themes used.
Businesses may need to rely on external resources for prompt technical assistance. In the event of technical issues and troubleshooting, businesses may require assistance from developers or agencies familiar with WooCommerce. It's important to establish relationships with reliable support resources to ensure timely resolution of any issues.
Plugin compatibility and updates
As with any plugin-based platform, WooCommerce's compatibility with various plugins and extensions can be a concern. Frequent updates to plugins and WooCommerce itself can introduce compatibility issues and may require additional time and effort for troubleshooting and resolving conflicts.
The use of plugins from different developers increases the risk of using poorly coded and outdated plugins. These plugins may not receive regular updates or security patches, potentially compromising the security and stability of the WooCommerce store. Businesses should carefully evaluate and choose reputable plugins from trusted sources.
How to overcome the Magento and WooCommerce challenges and mitigate risks
When you know the challenges you might face using Magento or WooCommerce as an e-commerce platform for your business and acknowledge the risks associated with them, you can better understand how to overcome those challenges and make the most of using the platform of your choice. Here're some best practices you might want to consider.
Planning and resource allocation
Before selecting a platform, thoroughly assess your business needs, scalability requirements, budget, and technical expertise. Understanding these factors will help you allocate resources effectively and plan for potential challenges.
Consider the costs associated with development, customization, ongoing maintenance, and potential scalability. Allocate a budget that accommodates these expenses and ensures the long-term sustainability of your e-commerce operations.
Technical expertise and support
If you choose Magento, ensure you have the necessary technical expertise in-house or consider hiring developers with Magento experience. For WooCommerce, invest in training or hiring professionals familiar with WordPress and WooCommerce to optimize and manage the platform effectively.
Partnering with reliable developers or agencies that specialize in Magento or WooCommerce can provide access to technical expertise and support when needed. Build relationships with professionals who can assist you with ongoing maintenance, troubleshooting, and guidance.
Regular maintenance and updates
Regularly update your chosen platform, including plugins, themes, and extensions, to ensure compatibility, security, and access to new features. Stay vigilant for updates and security patches provided by the platform and third-party developers.
Monitor your e-commerce store's performance, including page load times, server response times, and other key metrics. Optimize performance through caching,
WooCommerce or Magento: how to choose the right platform for your business?
When you decide between Magento and WooCommerce, it's crucial to not only compare the advantages and potential drawbacks of both platforms but also assess your business needs, size, and specific requirements.
For small businesses and startups, Magento may offer advantages such as scalability, customization options, and native dropshipping features. However, the initial investment and development complexity should be considered. WooCommerce, with its user-friendly interface, seamless WordPress integration, and cost-effective options, can be a suitable choice for small businesses.
Medium-sized and large businesses may benefit from Magento's extensive scalability, advanced features, and enterprise-level support. The flexibility to customize and tailor the platform to specific business requirements can be advantageous. However, the licensing fees, development costs, and infrastructure management should be evaluated. WooCommerce, though primarily targeted at smaller businesses, can still accommodate medium-sized enterprises with its scalability options and a thriving ecosystem of plugins and themes.
Industry-specific requirements should also be considered. Magento offers industry-specific solutions, including B2B functionality, making it a preferred choice for businesses in manufacturing, wholesale, and distribution. WooCommerce, with its versatility and WordPress integration, is suitable for a wide range of industries, including retail, services, and creative businesses.
Choosing between Magento and WooCommerce for your e-commerce store: final thoughts
Choosing the right e-commerce solution is a critical decision for businesses venturing into the online marketplace. Be it a WooCommerce site or an online store built with Magento, your experience will include both profiting from the advantages and handling drawbacks behind each. So, how to choose the right one?
Magento and WooCommerce provide powerful solutions with distinct features and capabilities. When you compare WooCommerce vs Magento, evaluating factors such as pricing, hosting, dropshipping, integration with accounting software, and aligning them with your business needs and size will help you make an informed decision. Remember to assess your specific requirements, scalability needs, budget constraints, and industry suitability when choosing between Magento and WooCommerce. Thoroughly evaluate and test the chosen platform before committing to ensure it meets your expectations and empowers your online business growth.