As the title of the article is quite unambiguous, it might seem that mentioning a couple of numbers would suffice. But the job market today is much more complicated than stating some numbers if one wants to get some deep insight into the topic.
The average salary of any profession is influenced by a number of factors, so it's logical to look into these variables. This article might be useful for those choosing their career path in accounting or aspiring to change jobs as well as for owners of businesses who are considering various accounting solutions for their business.
This article will explore:
1. Current situation in the accounting industry
3. Average base bookkeeper salary
4. Factors contributing to the average bookkeeper salary
Current situation in the accounting industry
In December 2019 Strategic Finance magazine published an article under a speaking title "The looming bookkeeper shortage", dwelling on the growing gap between the number of new professionals entering the field to replace the aging bookkeepers and the number of vacancies open for employment. This situation is only natural due to an increase in retirement of those professionals who were born between 1946 and 1964.
According to the U.S. Department of Labor's Bureau of Labor Statistics (BLS), bookkeepers and accounting clerks will experience almost a 4% employment decline in the decade 2018-2028, compared to a projected 6,4% increase in accountants and auditors during the same period, which is shown in the table 1. This drop is sometimes blamed on the growth of cloud computing and adoption of automated accounting by many businesses. It might seem true at first glance, as accounting applications and software help to perform routine tasks and decrease the load that bookkeepers have in their jobs. Thus, less work for bookkeepers and accountants means that employers are going to hire fewer professionals. It doesn't mean though that accounting professions are going to be replaced by digital accounting anytime soon. What it means is that there's an ongoing shift from routine tasks like manual data entry to more analytical tasks like pointing out the areas of potential growth, consulting on efficiency of some business processes. That shift is global and touches many professional areas nowadays.
Table 2 depicts the difference in the median annual wage (as of 2018), entry-level education, work experience and on-job training for accountants and auditors in comparison to bookkeepers and clerks.
When it comes to the median annual wage for bookkeepers in table 2, it might seem outdated at first, but if we compare $ 40,240 in 2018 and $ 40,337 in 2022, it hasn't changed much since 2018.
Table 3 demands a bit of closer speculation on some data. It reflects the problem of an aging workforce in accounting. While 46% of accountants and auditors are aged 25-44, only about 32% of bookkeepers and accounting clerks are of the same age. About 42% of accountants and auditors are of 45-65 years old, while more than half of bookkeepers and accounting clerks are of this age. When we talk about working professionals older than 65, a staggering 13.1% of bookkeepers and accounting clerks compare to 7.1% for accountants and auditors, which is almost half fewer. The conclusion is that there's a huge number of bookkeepers and accounting clerks heading for retirement. Combined with fewer young people entering the profession, the demand for bookkeepers may not be satisfied, especially in small and medium-sized businesses.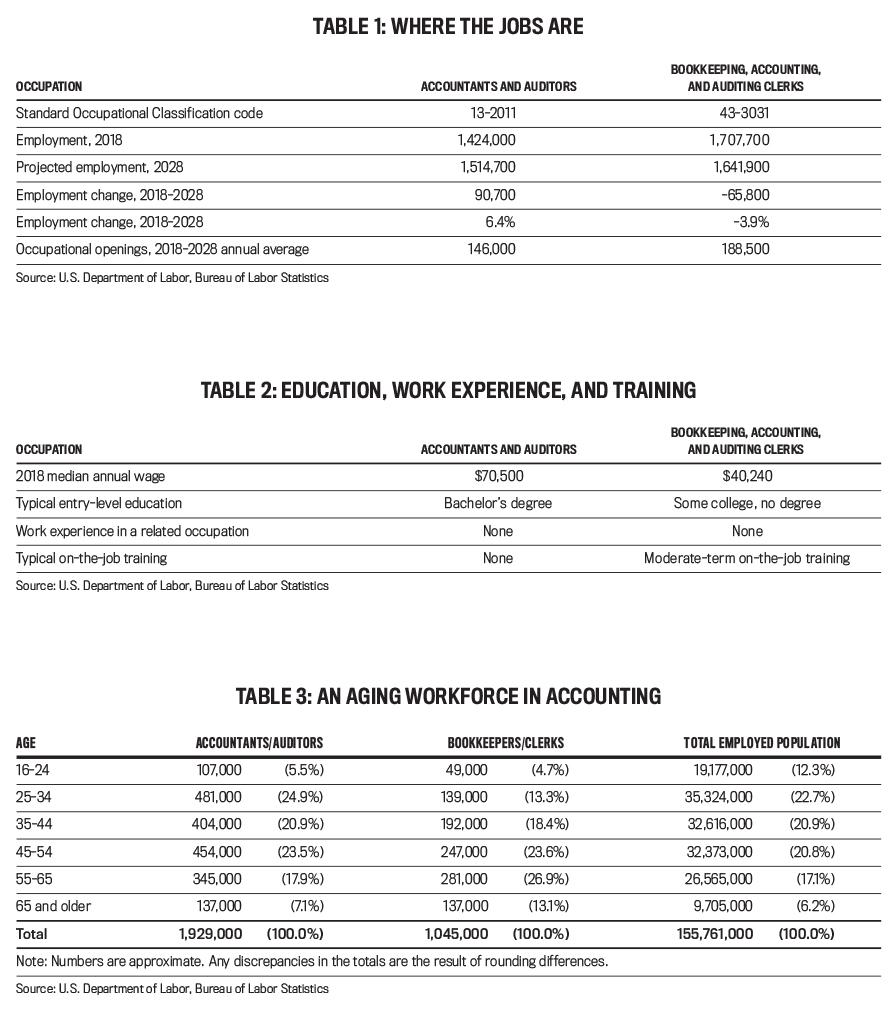 Accounting solutions
The fact that the e-commerce world is changing every second is doubtless. When it comes to accounting solutions for businesses, there's a number of options that might prove effective in each particular case. Both hiring a professional bookkeeper or installing some digital software to automate some bookkeeping functions for your accountant might fortify your business position. The most important thing is to weigh up all pros and cons and define which alternative is the best in your case.
Bookkeeper vs accountant
It's vital to differentiate the functions of an accountant and a bookkeeper, especially if you plan to extend your accounting team.
While bookkeeping is the process of recording all the financial transactions that your business conducts, accounting is analyzing the data and interpreting what it means for a business.
According to Business News Daily, bookkeeping can be seen as transactional and administrative, performing various daily tasks of recording financial transactions like purchases, receipts, sales and payments. The aim of accounting in that sense is to provide business owners with financial insights based on the bookkeeping data that will help to implement healthy cash flow strategies.
An accountant can perform bookkeeping functions, but a bookkeeper needs certification to become an accountant.
A bookkeeper is generally responsible for handling the first 6 steps of the accounting cycle, while an accountant takes the last 2 steps. Some functions may overlap, depending on the situation.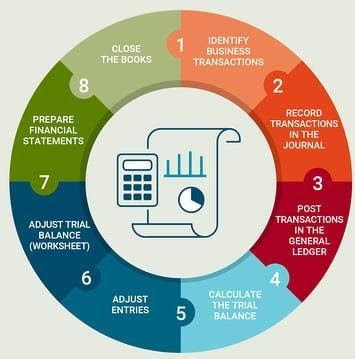 Depending on how a business is growing and adding new employees, clients and vendors, a business owner decides whether they should employ a bookkeeper or an accountant, outsource accounting or take a part-time employee. 
Accounting software
Another option is to rely on contemporary accounting software, which helps to streamline accounting procedures and minimize time spent on mundane bookkeeping tasks. It has to be mentioned that operating such software demands some training but a huge plus is that digital accounting software is intuitive and has 24/7 support. The choice of a person responsible for accounting in each particular company depends on its size and financial situation. It can be the owner of the business (in case it's a small business), somebody from the existing staff with additional training or a bookkeeper or an accountant. As it was mentioned before, digital accounting isn't an enemy of bookkeepers, rather their reliable companion and help that allows them to grow professionally. There are various programs like Wave, Synder, ZipBooks, QuickBooks, Sunrise, that cater for various accounting needs.

Synder provides a smooth reconciliation process and constant support for your business with the biggest number of integrations adding more on a regular basis. Platforms available on Synder include all the big e-commerce platforms like Shopify, Amazon, eBay and more, plus lots of payment platforms like Stripe, Paypal, Square and many others. Synder is not only reliable accounting software, but also an e-commerce business intelligence tool (Synder Insights) that gathers your business data analytics helping you grow and expand strategically. Synder combines bookkeeping and accounting functions by keeping track of daily transactions and helping to analyze perspectives, which makes it a powerful tool in the hands of a person using it.
Average base bookkeeper salary
Getting back to the average bookkeeper salary, it's necessary to state all the average numbers and then proceed to how these numbers can change, depending on some factors.
According to payscale.com, the average hourly rate for a bookkeeper is $18.46, while the average annual bookkeeper salary is $45.162 (updated in August 2022).
According to zippia.com, these numbers are $19.39 and $40.337 respectively (updated in August 2022).
This average bookkeeper salary reflects only base pay. Depending on the employer, bookkeepers may qualify for other forms of compensation, such as performance bonuses.
These average bookkeeper salary numbers should be considered only base pay. Bookkeepers may also get additional compensation like bonuses. Profit sharing, commission, depending on the employer.
According to Payscale data, this additional income is estimated by some bookkeepers at $1,000-$19,000 per year .
Factors contributing to the average bookkeeper salary
Education
Education and proper certification are the factors that can't be overlooked when talking about yearly earnings for bookkeeper jobs. The tendency with the employers now is to demand associate degrees for entry-level bookkeepers in comparison to just high school diplomas required before. Bachelor's degree isn't a typical demand, while master's degrees in accounting are required for more advanced positions.
Graduate degrees can be replaced by professional certifications:
These certificates add considerable value to a bookkeeper's resume. The following table by PayScale, however, tracks the salary of CB holders only and there's no specific data for CPB holders.

Experience
Experience plays a significant role in defining average salaries or wages and bookkeeping is no exception here.
According to the data based on 366 salaries, an entry-level bookkeeper (under one year of experience) can expect about $15.27 per hour, including all bonuses and overtime pay.
A bookkeeper with 1-4 years of experience (an early career bookkeeper) can count on about $16.67 (based on 3,212 salaries).
A mid-career bookkeeper (5-9 years of experience) will earn $19.31 of an average total compensation (based on 1,900 salaries).
10-19 years of experience make you an experienced bookkeeper who can get $19.94 (based on 2,356 salaries).
Finally, over 20 years of experience in bookkeeping bring an average total compensation of $21.
Location
Bookkeeper median salary is influenced by the state, city and area depending on the state of the local labor market and cost of living in the area. Raising median salaries for employees can balance the demand and supply of professionals in the sphere.
According to the U.S. Bureau of Labor Statistics (BLS), the top paying states for Bookkeeping, Accounting, and Auditing Clerks as of May 2021 are:
| | | |
| --- | --- | --- |
| State | Hourly mean wage | Annual mean wage |
| District of Columbia | $ 28.91 | $ 60,130 |
| Massachusetts | $ 25.64 | $ 53,340 |
| Washington | $ 24.74 | $ 51,460 |
| California | $ 24.56 | $ 51,080 |
| Connecticut | $ 24.54 | $ 51,050 |
Zippia.com gives the rating of the top paying cities, which is headed by Washington, DC, New York, NY and Boston, MA.
Additional skills
No surprise, that any additional skills upgrade your value as a professional, so in the table below there are 10 most popular skills that affect bookkeeper salaries and their effect in percentage according to PayScale.
| | |
| --- | --- |
| Inventory management | 35% |
| Cash flow management | 30% |
| Cost accounting | 29% |
| Month-end close | 17% |
| Banking | 13% |
| Project management | 12% |
| Sales tax report | 10% |
| Human resources | 8% |
| Accounting | 8% |
| Budgeting | 8% |
Bottom line:
The main takeaway concerning average bookkeeper salary is that it varies due to a number of factors and constantly changing economic situations. On the one hand, modern technology simplifies our lives, but on the other hand, it motivates us to develop, get new skills, be flexible and leave our comfort zones. The advance of digital bookkeeping has its tangible effects on bookkeeping jobs, and that should be seen as positive and helping professionals to grow.