The digitalization of services that is happening today is often seen as the fourth industrial revolution. Like any other revolution, it frightens but also opens up new opportunities for those willing to adapt. The global pandemic has served as fertile soil for digitalization and made its pervasion into the economy permanent. It has become clear: the leading automation technologies are here to stay and to reign. This change is indeed causing a certain level of anxiety in the accounting industry. Some accountants wonder whether their jobs will be superseded by automation technology, cloud computing, machine learning, and AI.
Are these worries justified? It is fair to say that most of these concerns are not more than the fear of a monster in the dark. The unknown is scary. And it's OK to feel scared as you change, just don't be reluctant to change at all.
If we look closer, we will see that the advantages offered by the evolution of technology significantly outweigh the risks. Embrace technology trends, embrace the digital revolution, embrace the change in accounting services—and you will see that current digital tools, process automation, and accounting software are your best friend and support during this journey.
Contents:
Digitalization of the accounting industry
When it comes to bringing emerging technologies into the world and digitalization of business processes, the finance and accounting industry have long been early adopters.
Let's take the example of the UK Government and their Making Tax Digital initiative, which emerged back in 2015 and was finally brought to life in 2019. With many businesses now required to use the new system, technology has revolutionized the way individuals pay tax and their daily approach to work.
In the USA, 90% of people choose to e-file their income taxes rather than file by mail. According to the IRS, it is the fastest way to confirm that your tax return has been accepted or rejected and the quickest way to get a refund (with 9 out of 10 refunds in less than 21 days). This is among one of the main reasons most taxpayers find e-filing convenient.
New technology in accounting is coming. Should I go digital too?
At least everyone has to admit that the accounting industry, together with the rest of the world's economy, is at the beginning of the digital revolution. Automation technology is challenging accounting services, forcing them to adapt to the realms of the digital economy.
The next question is: Would you like to be ahead of the accounting technology trends or jump into the last carriage?
If your choice is to become an early adopter of accounting technology, we have a mutual path to follow. For example, look at the accounting software that provides reasonable pricing automation tools while delivering great value.
Digital tools are not your foe, but a friend if you know how to use them smartly. Implement them to:
automate tedious day-to-day tasks,
eliminate the need for manual data entry,
utilize the precision of machine intelligence.
Things like manual data entry are soon to become a relic of the past. Businesses are running 24 hours a day, seven days a week, 365 days a year. More and more of them are selling online, worldwide, and cross-border. How can a modern accounting practice cope with the load of the ongoing transactions, the complexity of which is continuously growing?
What you will be able to achieve if you embrace new technology in accounting, to name a few:
streamline operational efficiency,
improve your service quality,
introduce new revenue streams.
How to leverage digital technology and make your accounting services supreme
Many professionals worldwide have already learned that current digital technology supports the successful transformation of their accounting services. Now it's your time! But where to start? There's no need to go full tech-savvy at once. Digitalization of your accounting practice can start small but still bring you a competitive advantage. Step by step, you can form a successful digital transformation strategy.
First, accounting practices, no matter how big or small, need to reimagine how they maintain clients. Also, how they innovate new ways of delivering their services through digital and remote technologies. Their role will continually become cross-functional, involving better reporting and data-driven decisions and applying rules-based automation to the most time-consuming, manual processes.
Secondly, become as flexible as you possibly can. If you have good practices that enhance your resilience, make you more agile in a crisis, and position you to navigate future situations, you will be more successful. Given the natural disasters and other emergencies that have disrupted businesses globally in recent years, both organizations and professionals who embrace digital technology will have a competitive advantage.
Why will businesses entrust their finances to accountants who went digital
When thinking about whether or not you should take digitalization seriously, bear in mind that digital disruption is changing not only the accounting industry. The digital revolution is changing the world's economic ecosystem.
Many who lost their jobs due to COVID-19 may decide to launch businesses, most likely, e-commerce businesses. Many whose ongoing companies were hit by the lockdown will have to transform to online and deal with digital cash flows in one way or another. They will turn to accountants as trusted business advisers for essential services and help in strategic decision-making in a new economic landscape.
3 things clients will want to know:
How to makes the organization more efficient
How to make deeper connections with their customers
How to enable revenue growth
And here's why they will choose to entrust their finances to accountants who can leverage the new technology:
Speed of accounting service
Precision and accuracy of financial calculations
Accurate data analytics and immediate financial reporting
Companies will continue researching digital solutions and turning to accountants or finance professionals to help them navigate these steps. Will you be among the professionals well-equipped to provide relevant services?
5 reasons any accountant will benefit from digitalization of accounting services
Digitalization of accounting services is not an easy task that can be done at the snap of your fingers. Digital transformation is undoubtedly a long-term strategy, and you may not expect to reap all the fruits instantly. But the competitive advantage you will get in the outcome will outweigh the pledged resources.
Diversification of income sources
New value streams of revenue appear on the horizon that were not possible before implementing digital technology. They adjust interaction with customers, change how professionals deliver accounting services, and help determine how to offer new value to their clients.
Winning more clients in emerging markets
Digital transformation has become a powerful democratizing force, providing access to networks and markets for many more people and businesses worldwide. Entirely new markets are being created, tap into these fast-growing networks, and any of them can be your future clients.
Growing competitive capacity
This new accounting technology adoption will significantly increase efficiency and enhance accounting firms' and professionals' competitiveness considerably as they will work with various new emerging business models and markets.
A wider variety of additional services
By applying new technology in accounting, many firms and professionals will offer their clients more options because of affordable accounting software and automation technologies.
Improving clients relationships
Digital technology makes collaboration easier, helps manage the workload, and makes more effective use of people's time. It allows for personalized client service regardless of the distance. Clients appreciate the ability to access accounting documents and updates in real-time, bringing more transparency, trust, and efficiency to communication.
The right mindset for your accounting triumph in the digital age
To triumph in the digital age, accountants and financial professionals will have to incorporate a new mindset and a fresh approach to look at what they do at their jobs from a new perspective. Reflect on technological changes. Think of how you can strategically improve accounting service and the overall performance of your accounting practice.
Here's how to look at emerging accounting technologies as your friend, not foe:
Accounting technologies help create new opportunities for innovative services and add-ons.
Process automation makes your day-to-day more efficient and helps free up time for strategic work.
While digital tools are doing the work, you can focus on providing personalized client service.
Top 3 changes in the jobs of accountants due to digitalization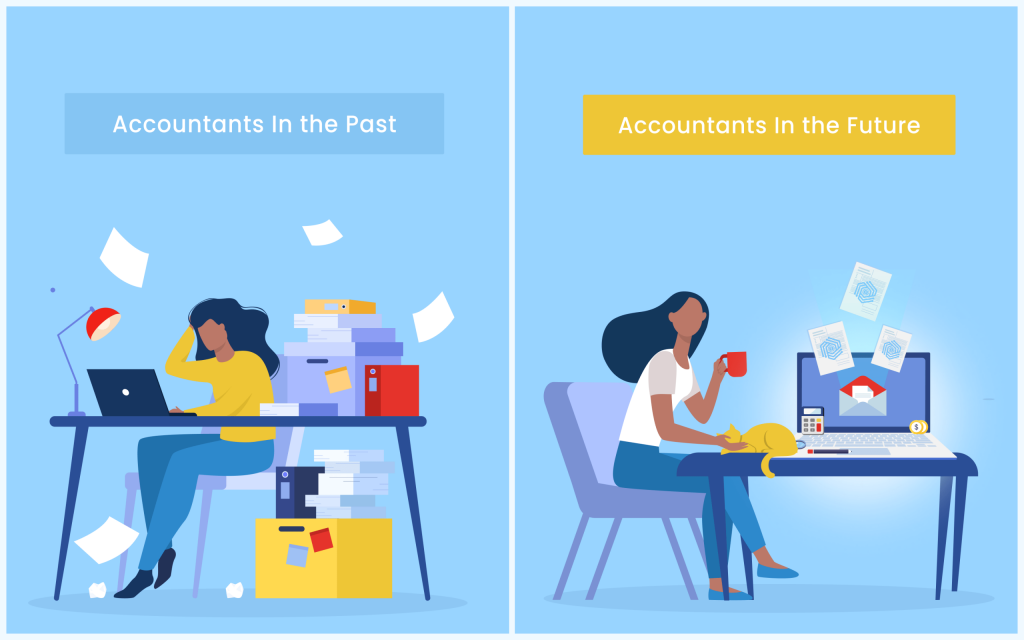 Digitalization is forcing accountants to rethink the way they run their practices. Here are 3 main trends convoying digitalization of accounting services.
From ledger clerks to IT professionals
As businesses are heading to the digital world, it is becoming increasingly important for accountants to be well-versed in modern software. The digital age's new realities make pen and paper disciples familiarize themselves with the current digital tool and latest software. Many accountants feel that they are becoming more like IT professionals. It takes time to adjust to the changes, but the outcome is worth it.
From "number crunchers" to strategic advisors
Accounting roles are shifting like tectonic plates. Data entry will still be a part of accountants' day-to-day activities, just with less manual interference. The role that accountants will play to businesses will gradually shift to an advisory service. Accountants and finance professionals will be expected to adjust to organizations' evolving needs and help support new business models. They will need in-depth understanding of their clients so that they can invest in providing them with highly tailored solutions.
From lone workers to active team players
The accounting services will become highly client-oriented—frequent communication with the client is the future for accountants. The ability to explain complex financial topics to the client in plain language is critical. The job of accountants will evolve to empower small business owners to understand their business better. These new accounting roles will require more vital collaboration and communication skills than ever.
The future of accounting services
Accountants today have to keep their vision for the future in mind. How do they want to evolve their professional services in years to come, when the whole industry is becoming more and more digital? To foresee the future of accounting services, one needs not ask if accounting jobs will be eliminated. Instead, which aspects of the accounting profession will be replaced by automation, and which are left to humans. Spoiler: the cream of the crop.
Every job can be parsed into two components: the repetitive and routine one and the more interactive and "human" that involves listening to and talking with your clients. So, how about not being swamped with paper invoices, transcribing every digit into the Excel spreadsheet but having a cup of coffee with your favorite client discussing the financial health of their business and prospects of their future financial decisions? This is far less likely to be automated in the foreseeable future.
The evolution of technologies opens new ways accountants can address the unique needs of businesses and organizations. Marked by a move from physical files to digital documents, accountancy and finance professionals increasingly use digital tools to succeed in their day-to-day. While there may be some resistance, accounting professionals will eventually feel more and more confident embracing digital technology. They will try new options and contribute more time to building new service strategies and building valuable connections with their clients.
Bottom line
Digitalization is promising greater efficiency and effectiveness to accounting today and in the future. Automation technology has infiltrated every level of the financial, payment, and tax landscape. Professionals have learned many lessons about embracing new technology in accounting and introducing more strategic thinking in the services they offer clients.
Automation of accounting processes is no longer an option but a must if you want your accounting practice to thrive in the future. Smart accounting software like Synder supports thousands of accountants worldwide with mundane process automation and allows focusing on a more competitive business strategy based on communication and client retention.
Interested in the successful digitalization of your business? Read our full guide on Digital transformation.