Overview:
Understanding why overpayments occur when syncing to Xero with Synder Summary
You might come across overpayments in Xero when the actual payment received exceeds the expected payment. This often happens if an invoice is due on one day, but the payment is made on a subsequent day. For instance, the invoice was generated on May 25th but it was not paid until May 30th. The image below demonstrates this scenario.

The delayed payment causes an overpayment, in this case amounting to $128.99, as shown in the following screenshot.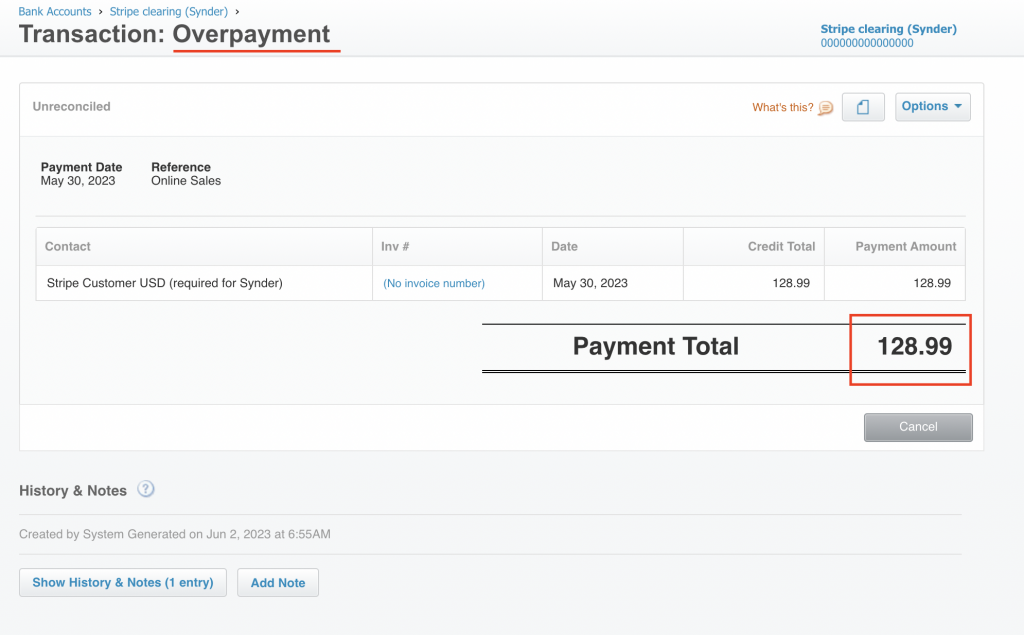 You might face additional complexities due to the discrepancies between invoice dates and payment dates, partial payments, currency exchange rate fluctuations, or customers paying more than the invoice amount.
Steps to associate overpayment with a previously underpaid invoice in Xero
Here is how you can link an overpayment to a previously underpaid invoice in Xero:
Navigate to the "Business" tab, select "Invoices", find the unpaid or partially paid invoice, and open it.
Scroll down the page, click on "Credit this invoice".
Xero should automatically pre-match an overpayment, so you just need to enter the amount to confirm it. Enter the amount under the "Amount to credit" field and click on "Allocate credit".
If the credit covers the full outstanding amount, the invoice status will update to "Paid". If there's a balance remaining, it will show as "Partially paid".
Reach out to the Synder team via online support chat, phone, or email with any questions you have – we're always happy to help you!
Was this article helpful?