Synchronization process
Integration with QuickBooks Desktop contains 4 steps:
– Payment processor
– Synder online (you can manage settings and transactions there)
– Synder desktop connector app (helps to push data from Synder Online to QuickBooks Desktop)
– QuickBooks Desktop.
Please find more information on how to connect Synder to QuickBooks Desktop and install the Synder connector app to your computer.

Once you enable automatic synchronization in Synder online, there is no need to launch Synder in the browser, however, please keep Synder connector app and QuickBooks Desktop both open on your PC in order for the data to go through. If the Synder connector app is closed, you will see the "Scheduled" status for all the transactions.
You can minimize the Connector app and keep it in the background.
Check Results in QuickBooks Desktop
You can check synced transactions on the clearing account created by Synder in your Chart of Accounts (for example, "Stripe bank account"). Initially, Synder will deposit all the transactions there, and once the payout comes, it will transfer them to your checking accounting for seamless reconciliation.

Any transaction from Payment processor will wind up as a Sales Receipt/Invoice (for total sale amount) + Check (for processing fee):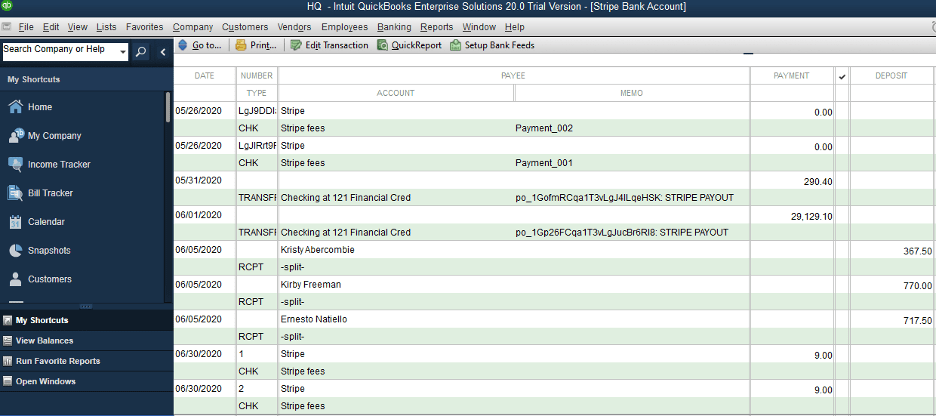 That is it. Now you know how to sync transactions and find them in QuickBooks Desktop.
Was this article helpful?