Overview:
Payment Links feature in Synder
If you want to receive instant payments from your clients and automate your books, the Payment Links feature can be a real helper on this. You just need to generate a link and send it via email to your clients or insert it on your website/social network. This will turn your Instagram profile, or a Facebook page, or a WhatsApp group into a sales channel.
Let's say you sell pillows and have an Instagram account. You can insert a generated in the software link on your Instagram. So, to purchase a pillow your clients just need to follow the link and pay with a credit card. As a result, you get a payment in Stripe or Square and Synder creates a Sales Receipt along with expenses for Stripe and Synder fees in your QuickBooks automatically.
Note: for Synder Accounting users only. Sign up to Synder accounting to use the upgraded version of payment links. If you are a user of Synder with third party accounting platforms, please check out this guide on Payment links.
How to help your customers pay for your services?
First of all, make sure you have connected your Stripe or Square accounts to Synder, this will give you the opportunity to send the link to your customers to pay you.
Make sure that you have switched to the needed Organization in the top-left corner of the Synder page (if you have more than one).
To enable this feature, please go to the Sales tab (1) and choose Payment Links (2).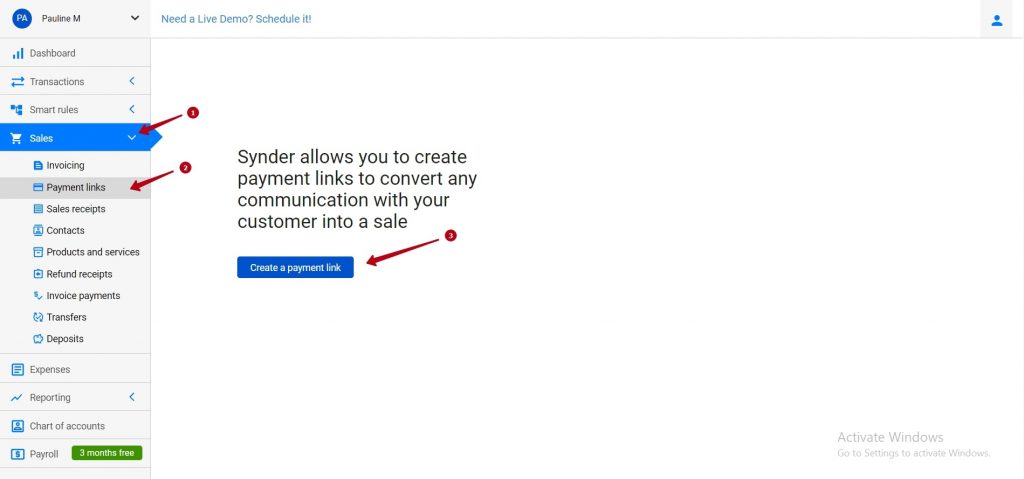 After that, you need to Сreate a Payment link itself (3). Follow these simple steps described below:
Link name – A name will be displayed in your Payment links list and will help you to navigate through them. It will be visible only for you.
Link description – Here you can add an additional description to your product. It will be visible only for you.
Logo – Add your company logo to make your link unique. You can upload pictures in .jpg, .jpeg, .png formats.

Select currency – set the currency to receive payments in.
Amount – you will have 2 options to choose from:
Fixed – Your customers will pay a fixed price. That's very useful for online shopping. (i. e. your Instagram account);
Open – Amount to specify is up to the user.
Customer notes – if you put a tick mark in front of the option Allow notes, your customers will have an opportunity to add notes to payment. It is very useful if the user needs to specify something. (i.e. color or size of the product).
Address – if you put a tick mark in front of the option Add address, your customers will have an opportunity to specify their billing address if needed.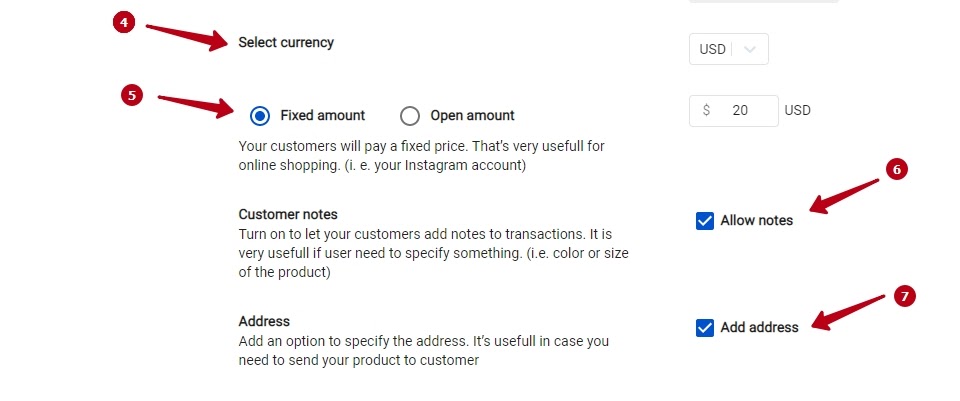 Click on the Create payment link button to save settings in the upper-right corner.
Then you will be able to see the list of already created payment links. You may filter them by Shipping address (1) or the Link creation date (2). Press the Apply filters button to execute the process.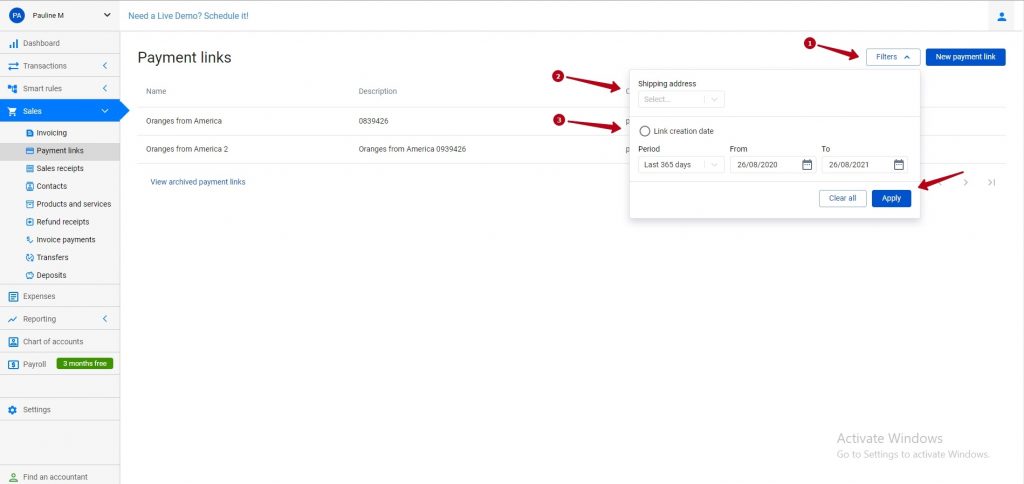 Tips and tricks on using payment links with Synder
Note 1. There will be an option to Archive unnecessary ones in front of each link – an arrow box icon. If you need to view all archived links – press the button in the bottom left-hand corner just below the payment links table.

Note 2. There are two ways the payment link can be used:
Direct link – just a simple HTML link directly to the payment form. Copy and use it wherever you need.
Payment button – a ready-to-use payment button for your website. Your customers will be taken to a secure payment page.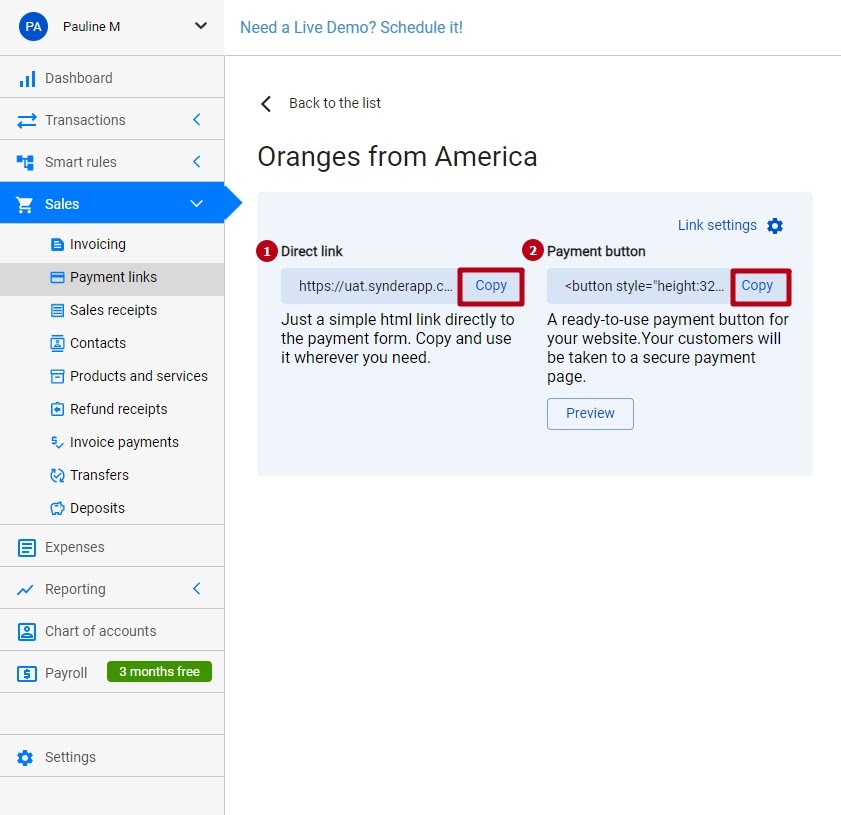 Note 3. The Preview option in front of it will give you an opportunity to Click to check how it works for your customers. Press the Pay option and you will see the following table to be filled in on your customers' side.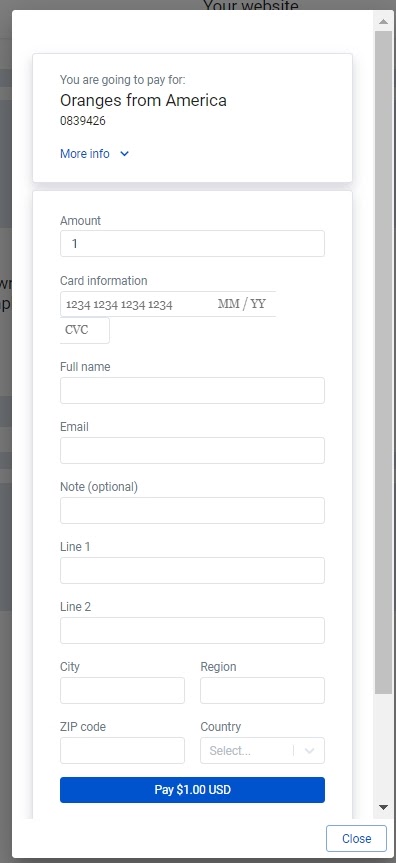 Note 4. Also, there will be a Link settings option to make changes to the configurations already selected for a particular payment link.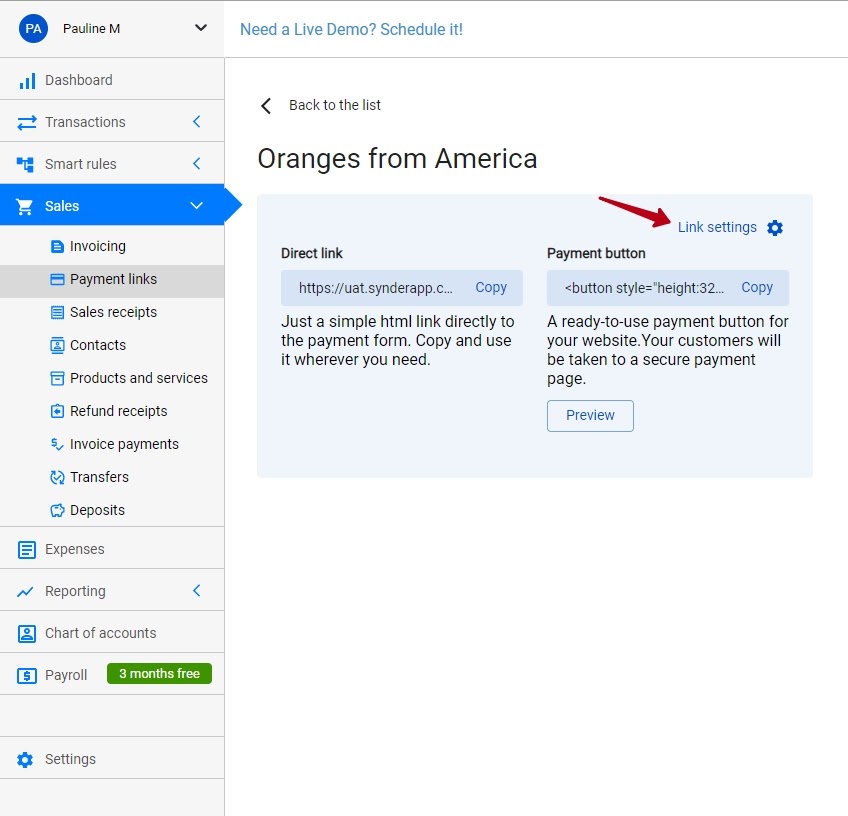 Perhaps, you have thought about moving your business into an online format?
Invoicing to charge your clients (which will be useful for you to improve your cash flow and get your customers paid via credit card – you can use it on a daily basis).
Get in touch with the Synder team via online support chat, phone, or email with any questions you might have so far – we are always happy to help you!
Was this article helpful?